Camp Leadership Programs: Teaching Skills for Camp, College, and Life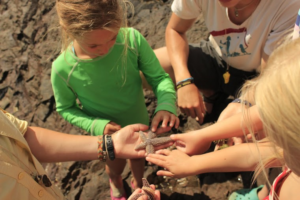 Across the state, camps of all kinds serve youngsters well into their teens.  But what happens when kids "age out" of camp, or when teens who've never been to camp want a new experience? Traditional CIT (counselor-in-training) programs exist, yes, but in addition to molding future counselors, many camps offer leadership training programs intended to teach skills useful for college, employment, a lifetime.
Many of these programs foster an environment where youngsters' leadership skills can emerge organically. Jessica Decke, director of the University of Maine 4-H Camp and Learning at Tanglewood, in Lincolnville, which has had a leadership program for several decades, says their program "allows natural leadership to come out."
"They realize they had it all along," Decke says.
At Tanglewood, the leadership program has four phases, beginning for campers at age 14. The programs teach ecology and outdoor living skills, but also create an environment in which participants learn other skills, such as communication, group dynamics, and an understanding of sustainability issues. Integral to all of these activities is a focus on community service, Decke says. That commitment is similar at the University of Maine 4-H Camp and Learning Center at Bryant Pond, whose Lakeside Leadership programs offer a two-stage training program.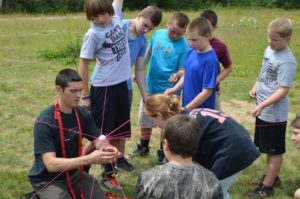 A primary goal of the Bryant Pond program is to help campers become counselors, says Director Ron Fournier. There are many campers who "are so committed to giving back to camp," he says. But the skills attained are applicable even for participants who make different choices.
The service learning component of the program encourages Bryant Pond participants to identify and meet a community need, Fournier says. One such project resulted in construction of a platform so a camper dependent on a motorized wheelchair could fish in the trout pond, Fournier says. At Tanglewood, leadership program participants conduct site-specific service projects as well. At both camps, scholarship assistance is available specifically for the leadership programs.
Community service is integral to many other camps' leadership programs, camp administrators say. For example, at Wyonegonic Camps in Denmark, girls in the leadership program have conducted trash cleanups, volunteered at food pantries, and performed trail work for the Appalachian Mountain Club, among other activities, says Director Steve Sudduth.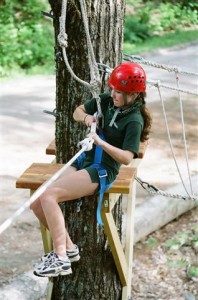 The Wyonegonic program spans two years. For rising juniors in high school, the program serves approximately 12 girls who participate in a traditional CIT program. In addition to the community service, the program offers experience across the range of camp activities, plus American Red Cross lifeguard certification and wilderness first aid certification.
The camp also has a program for 17-year-olds, who serve as assistants, both in cabins and for activities. That group usually consists of nine or fewer girls, who may be considered for staff positions the following year. Sudduth says. Very few Wyonegonic staff are hired at age 18, Sudduth says; most of the staff has completed its first year of college.
Wyonegonic, like other camps, has an application process for participation in its leadership programs that is intended to be educational as well. Candidates are invited to apply for the programs, and the process includes an interview.
"That in itself is a good life lesson," Sudduth says.
At Maine Teen Camp, a co-ed camp in Porter, campers are as old as age 17, says Director Matt Pines. Instead of a CIT program, therefore, the camp offers its Leadership Training Program to youngsters who have been campers in the past.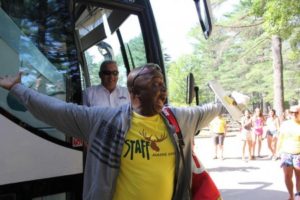 There are subtle "but important differences between the leadership program and a CIT program," Pines says. Participants have no supervisory responsibilities. Rather, "the emphasis is very much on developing leadership skills from a camp perspective, but also a more general life skills perspective," he says.
Participants are given the opportunity to assist in teaching if they have a particular program interest, but time is also spent "on things much more abstract," Pines says. For example, there is an emphasis on group dynamics. "We are really trying to get kids to understand how various groups function, and when and where they don't function, and the reasons they don't function well."
The program also seeks to teach skills such as time management and public speaking, Pines says.
All aspects of the program prepare kids "to be more successful through their college career and beyond," he says.
Like Wyonegonic Camps, Maine Teen Camp puts a strong emphasis on the application process. Pines says applicants invited to apply must write an essay, provide written references, and participate in a phone interview. "It's really a tremendous learning experience. A lot of 17-year-olds have never done an interview."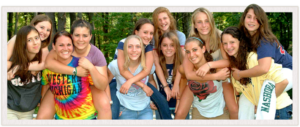 Interviews are also part of the process at Camp Nashoba North, a co-ed camp in Raymond. Director Sarah Seaward says the camp's Junior Counselor Program, for 17-year-olds, requires a face-to-face or Skype interview. The program, with only about eight girls per summer, offers participants the opportunity to work on two areas of expertise around camp, to live with campers, but also to meet with one another each morning to talk about "everything from homesickness to leadership."
As with other camps' leadership programs, Nashoba North's programs include off-camp trips that offer bonding time. In addition, the group is charged with planning the "top-secret banquet" at summer's end.
In Weld, at Camp Kawanhee, 16 and 17-year-old boys participate in a leadership program that "helps guys prepare for the next step," says Co-Executive Director Liz Standen.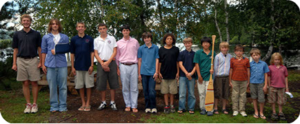 "The structure of it is really helping guys learn their leadership style," Standen says. That learning comes from a variety of sources, including preparing and presenting ideas for community service projects within the camp, performing tasks in the town of Weld, and taking extended trips. In addition, if deemed ready by the program leader, participants may live in lodges with campers.
"There are a lot of varied responsibilities for these guys," Standen says. "Some of their goal setting is really amazing."
As with other camps, Camp Kawanhee's program spans two years. It is not limited to former Kawanhee campers, Standen says. Participants get very individualized attention, and the program thrives on transparency, she says. "Bullies don't survive in the group," she says. "There's an expectation: these guys are all your brothers. You need to embrace each other."
"Guys walk away with some of that stuff you really can't measure," Standen says.
During the school year, adolescents get a full dose of academics and specialized instruction in athletics and arts. Camp experiences get kids unplugged, often outdoors, with exposure to experiences they may not have at home. And leadership programs offer a whole different education, focusing on life skills on which there may not be an emphasis in the classroom, on the playing field, or in a studio. Through trips and service projects and group activities, and with the guidance of skilled mentors, participants in leadership programs have a chance to tap into the parts of themselves that are "self-reflective," says camp director Jessica Decke. The opportunity can change a summer, to be sure. But it may influence much more.