UMaine 4-H Camp at Bryant Pond
Day Camp, Overnight Camp
Co-ed
1 Week, 2 Weeks, 3-4 Weeks, Special Sessions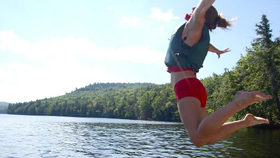 The University of Maine 4-H Camp & Learning Center at Bryant Pond provides exciting summer camp sessions based on Maine's natural heritage and traditional activities. The camp is nestled on over 170 acres of woodlands and fields with about one-half mile of shoreline on Lake Christopher in the mountains of western Maine.
Our core camp programs have a different focus on skills and activities and are divided into several program paths: Wilderness Survival, Woodscraft, Naturalist, Maine Woods Adventure, and Teen Leadership, and each has a different focus of skills and activities. Bryant Pond features hunter safety programs, as well as Camp Northwoods, in partnership with the Maine Dept. of Inland Fisheries and Wildlife and Maine Warden Service. To see a full listing of our programs by age click here. Our Facilities Include:
High and low ropes course (Land and water ziplines)
canoes, kayaks, and paddleboards
Indoor climbing wall
Hiking trails
Archery
Rifle & shotgun range
Cabins, bunkhouses, remote campsites (visit our campus tour)
Half mile of shoreline that features swimming and boating docks
a stocked trout pond, and plenty of fields and forests to explore
Adult Programs: At the University of Maine 4-H Camp & Learning Center at Bryant Pond, we recognize that adults, as well as children, have a desire to get outdoors and to learn about our natural world.
Meet our Staff: The Bryant Pond staff are dedicated to providing a safe place that campers are able to develop new skills, reach beyond their comfort level and gain a higher level of self-confidence.
Our Mission: The mission of the University of Maine 4-H Camp and Learning Center at Bryant Pond is to educate and inspire people of all ages and backgrounds toward social, economic, and environmental sustainability and conservation through affordable, experiential learning. We model leadership and life skills development, community collaboration, self-reliance, wellness, and a sense of stewardship for our natural world. This mission supports the broader mission of the U Maine Extension 4-H Youth Development Program, "to help Maine people improve their lives through education that uses research-based knowledge focused on issues, needs, and aspirations."
Tuition per Week: $500-$1000
Additional: Financial Aid Available
Activities: