Why Camp? From Nature to Friendships to Skills, The Real Questions is "Why Not?"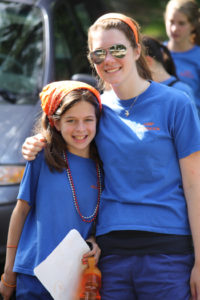 There is still lingering snow on the ground. A brief respite from the cold is forecasted to end this weekend.  The vernal equinox is still three weeks away. But for parents considering their kids' summer vacations, it's time to think ahead.
For many youngsters, summer means camp – day camp, or sports or arts camp, or traditional residential camp. Thousands of kids from Maine and afar enroll in Maine camps, and camp directors say the experience has a broad range of benefits. From reducing screen time, to sharing Maine's natural beauty, to teaching communication and collaboration, camp offers time and activities that complement learning activities of the academic year.
Catriona Sangster is a director of Camp Wawenock, a traditional, residential girls' camp in Raymond, and President of Maine Summer Camps, a membership organization of more than 120 Maine camps.  Sangster says that in addition to promoting a variety of recreational skills, she believes in "the ability that camps have to create community that is so vital for kids."
"One of the things everybody is noticing – whether on college campuses, or teachers in schools, and, quite frankly, our political climate right now – is that people are not learning the skills of how to collaborate, and how to talk respectfully, and work together to make a better future for everyone," Sangster says.  "I think camps are uniquely positioned, especially camps that restrict or don't allow technology, in building these life skills."
Being unplugged from technology creates an ongoing learning opportunity, Sangster and other camp administrators agree.
"Phones let kids escape," Sangster says. "They don't have to be in the moment." Unplugging allows kids to "live intentionally in the moment with others," she says.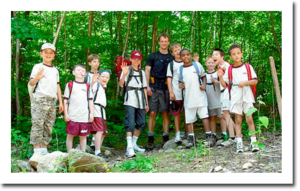 Spencer Ordway, director of Camp Winona, a boys' camp in Bridgton, agrees. Getting away from screen time promotes peer interactions, he says. "It's just becoming more and more important."
Face-to-face conversations build communication skills that translate to the working world, Ordway says. And being unplugged means that kids don't have the kind of "instant gratification" that social media promotes. That gratification isn't realistic, he says. "It doesn't happen. It isn't a reality when working with people."
Communication skills grow at camp not only between peers, but also peer-to-adult. Sangster says the camp environment "harkens back to old neighborhoods, where kids can learn from watching older kids." Through day-to-day interactions with counselors, campers are exposed to positive role models, she says.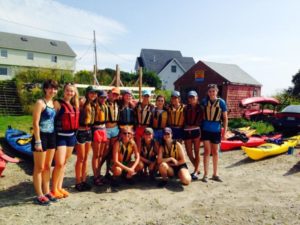 Pam Cobb, director of Camp Runoia, a girls' camp in Belgrade Lakes, says those relationships are essential.
"I think the profound part [of camp] is providing the opportunity for children to stretch and grow in a place where they have support from other adults besides family members," Cobb says. In such a setting, a camper can try new things without fear, and can also "reinvent herself with a new group of people."
"The community piece is so strong," she says.
Cobb, like Sangster and Ordway, also promotes the quality of being unplugged. Through face-to-face communication, campers are "working out differences. Celebrating differences."
"I can't say it happens at every camp, but it's specific to our mission at Runoia – empowering girls and staff to live in harmony with each other and themselves."
"It happens organically," she says.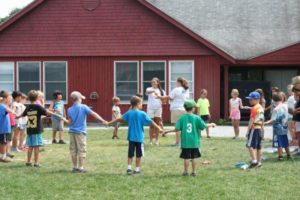 Day camp can provide equally significant experiences. Tom Doherty, executive director of Camp Ketcha, in Scarborough, says that by taking campers as young as age three, the day camp offers what may be a child's first experience outside the home.
"Camp is all about learning to deal with each other," he says. "When you're hot and sweaty and your friend annoys you, how do you deal with that?"
Physical movement at camp is also key, Doherty says. "You can move past stuff," he says. "If you have an interaction that didn't go well, and then you're on to something else compelling, you're not perseverating."
And while camps in Maine vary widely in terms of programming and location, many focus on getting kids outside.
"We promise our parents their kids will be tired and dirty at the end of the day," Doherty says. "That's a really important thing."
"There's the 'nature deficit' people talk about," Ordway says. Learning to live in nature is a lifelong skill. Sangster agrees. Although there are certainly camps that don't focus on outdoor living, many camps "get kids out in the natural world."
"They get comfortable with and appreciative of all the natural world has to offer," she says.
Spencer Ordway calls camp "an investment in a kid's future." And while it is a financial commitment, he says kids will "gain a community living experience, teamwork, and responsibility." Many camps have scholarship programs, and some camps have free programming for qualifying youngsters.
Camp may mean a week at a local day camp. It may mean a specialized sports or arts experience. Or it may mean a weeks-long adventure in the wilds of Maine's woods and water. The options for kids are vast, but regardless of the particular camp a child attends, the benefits of living and playing in community with others are significant. Summer may mean vacation from school, but it can also mean the opportunity for experiences in community that create entirely different skills.