Well-Trained Staff: The Key to a Successful Summer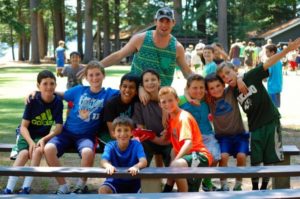 Top-notch Staff is Essential
Every summer, thousands of parents put their children's care into the hands of camp staff members. From day camps offering a single week of activities and instruction, to summer-long residential camps hosting kids for as many as eight weeks, Maine camps depend on their staff for providing an enriching – and fun – experience for children of all ages. Camp directors and leadership professionals agree that a top-notch staff is essential to providing quality camp programming.
Chris Thurber's Expert Online Training
"The success of the experience hinges almost entirely on the quality of leadership that staff provides," says Dr. Chris Thurber, a New Hampshire psychologist and renowned camp leadership specialist.
Thurber should know. A faculty member at Phillips Exeter Academy in New Hampshire who holds degrees from Harvard University and UCLA, Thurber has spent more than three decades in independent education and camp leadership. In 2007, Thurber co-founded ExpertOnlineTraining.com, an online subscription training program with more than 100 staff training modules for youth development professionals. More than two dozen EOT faculty members, including physicians, psychologists, teachers, and attorneys present video programs intended to complement on-site leadership training.
Thurber's passion for quality camp experiences also has its basis in a hands-on camp resume. For more than 30 summers he has served in a variety of leadership roles at YMCA Camp Belknap in Tuftonboro, NH. Each July and August he sees the benefits of a well-trained staff.
Camp staff members are in a unique position to influence youngsters, Thurber says. "We all know from growing up," he says, "that there is a 'cool factor' other grownups have." The combination of having adult mentors, outside the home, "is a wonderful combination."
Staff holds the key to the quality of a child's camp experience, Thurber says. A staff member can demonstrate "healthy risks or unhealthy risks," he says. Staff can "convey an attitude of optimism and creativity and joy, or convey an attitude of pessimism and cynicism."
"They can monitor social interactions and coach kids to develop healthy conflict resolution skills and healthy friendship skills, or they can be distant and allow kids to treat each other in ways that they sometimes do."
Thurber says his 20 years of training camp staff have been "incredibly fun."
"Staff are hungry for knowledge," he says.
Thurber says quality staff training makes camps "safer from an emotional standpoint and a physical standpoint."
"That makes me feel really good about the industry," he says. "There are more high-quality camps, and more kids attending, and more scholarships for kids."
Staff Training at Camps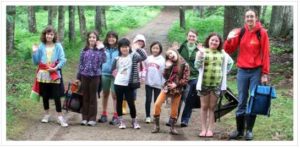 In Maine, camp directors say staff training has different elements. Peter Kassen, who with his wife, Meg, directs Hidden Valley Camp in Freedom, says training in part involves conveying information. But it also involves helping staff "feel like they are part of something special."
Imparting the essence of the camp's mission takes time, Kassen says. "A lot of what we do is lead by example. We try to create fulfilling relationships between directors and new staff and returning staff."
Returning staff serve as role models, Kassen says. New staff can "look and say, 'wow, they like this place and they're really cool and maybe is should like it, too.'"
Teaching essential information to staff, and creating unity among staff, need to happen simultaneously Kassen says the best way to run training sessions "is to ask questions."
"If I say, 'what do you think the best ways are . . .'" staff members come up with "quite an array of answers," he says. And in doing so, they feel empowered, he says.
Kassen says Hidden Valley Camp staff arrive at least 12 days before campers. Those staff with specialized certifications arrive four days before that, so that their training doesn't interfere with general staff instruction.
At Maine Teen Camp, in Porter, staff train for a full 10 days prior to campers' arrivals.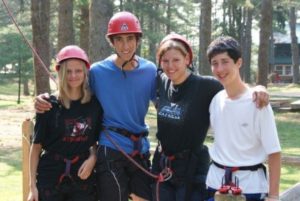 "It's intense," says director Matt Pines. Staff need to learn new concepts and new ideas, but also build unity, he says.
"Teamwork is the single biggest aspect that the staff needs to have," Pines says. "If you don't have teamwork, things will fall apart."
A key to campers' enjoyment of Maine Teen Camp is "spontaneity and fun," Pines says. "Kids call it the 'randomness of camp.'"
"We all know it's the result of giving the staff lots of time to get to know each other, understand each other, trust each other," Pines says.
Training days therefore demand a mix of work and fun, he says. "There's a balance between the important work to do, like training on being a mandated reporter."
"We have to balance that out with an emphasis on the stuff that makes camp, camp," he says. "We get the policies and procedures absolutely locked down, but at the same time we're focused on the things that make camp special for kids."
Chris Thurber says a well-trained staff member offers a combination of physical safety and emotional safety. He or she can address homesickness, help kids take healthy risks, and offer a "combination of support and opportunity that are the engine of accelerated development."
A good staff is essential to a good camp. Kids will want to come back, Thurber says, and from an enrollment perspective, camps will succeed. At the same time, campers will grow and thrive and build relationships and skills that carry well beyond summers in Maine's natural beauty.