Farm Camps: Learning Sustainability, Hands-On
Farm Camps Can Teach Sustainability
Camps in Maine boast an enormous range of activities for kids of all ages. One subset of those camps are farm camps, where kids learn first-hand about the day-to-day activities that make a farm tick. From the 622-acre property of Wolfe's Neck Farm to a small demonstration farm at Farm Camp in Cape Elizabeth, farm camps provide a unique opportunity to teach sustainability literally from the ground up.
Kari Jenkins serves as Youth and Family Programs Manager at Wolfe's Neck Farm and directs the farm's day camp. Jenkins says the farm has seen a "definite uptick in interest in what we do" during the 10-week summer camp season that runs Monday through Friday for kids aged four to 14.

"I would say that one of our goals here at the farm is to meet everyone where they are," in terms of their understanding of food systems, Jenkins says.
"We try to develop [campers'] sense of understanding," Jenkins says, "and the role that understanding can take in their own personal choices they make toward stewardship and sustainability."
"There are many facets to being sustainable and creating a positive culture around stewardship," she says.
At Wolfe's Neck Farm Camp, meeting campers "where they are," means beginning the day with farm chores, followed by a welcoming circle in the barn. Campers then proceed to the exploration phase of the day, where Jenkins says kids "get a chance to get out to the beautiful outreaches of the farm."  That means spending time anywhere from the farm's garden plot to its forest to its marshes.
"They discover things in those eco-systems they might not otherwise see," Jenkins says.
The camp's 11 educators also each offer two activities a day, based on "micro-seasons," which serve as themes for different weeks of camp. They may range from plant-based agriculture to livestock to forest ecology to ocean and working waterfront.
Assisting the staff are members of the camp's junior counselor program, geared toward youth aged 15 to 18 seeking to develop leadership skills. It's a chance to build job-readiness abilities in a fun and educational environment, Jenkins says. (Interested teens can apply on the Wolfe's Neck website).
For the approximately 75 campers who attend each week, the staff members seek to impart an understanding of respect, Jenkins says.
"We often talk about the idea of respect and holding respect for the animals that live here, and for themselves, and for the educators," Jenkins says. "It always comes back to that idea."
"It naturally links itself to fostering things like stewardship."
Learning Where Our Food Comes From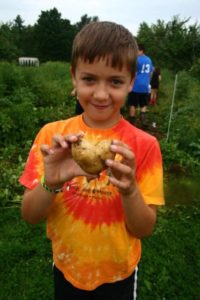 In Albion, at Hart to Hart Farm, owner Linda Hartkopf says campers learn about organic farming and "how it relates to our own lives."
"It's not just a farm, it's a whole system that it takes in – ponds, forest, animals," Hartkopf says. "They all live in harmony."
Hartkopf says the camp is an "exploratory-based program, giving [campers] the opportunity to explore, ask questions, and find answers."
The eight-week program takes 25 campers per each Monday-through-Friday session, Hartkopf says. One day each week is dedicated to a farm-to-table cooking project. One such project focuses on a "pizza garden," where campers learn about growing wheat, grinding berries from the previous year's crop to make dough, and cooking the pizza in a clay oven.
"We harvest anything that's ready," Hartkopf says, such as peppers and basil.
"We show them 'what does it take to get that food to your plate, or to your home?'" she says. "It doesn't just show up at the grocery store."
The camp serves a range of age groups, including one week for five to six-year-olds, four weeks for seven to 12-year-olds, and two weeks for 11 to 13-year-olds. Serving older campers "allows us to challenge them with current issues in agriculture and food systems," Hartkopf says. An optional sleepover at the farm also teaches campers that "there's more that happens when they leave the farm," she says. Campers can also "adopt" and care for a specific animal, teaching them "the animal is relying on you for that care," she says.
The farm, which consists of 280 acres divided into three plots, includes 110 head of Jersey and Holstein cattle, about 60 of which are milked. The farm is part of the Organic Valley producers' co-op; the milk goes to produce Stonyfield Yogurt.
"We keep it regional," Hartkopf says. "All of our milk goes to Maine, Vermont and New Hampshire. This minimizes carbon footprint and sustains local industries, she says.
Campers as Young as Four Learn About Agriculture
At Turkey Hill Farm in Cape Elizabeth, a smaller scale farm camp teaches kids as young as four about environmental education and agriculture says director Holly Sheehan. The farm, which is a demonstration farm rather than a working farm, strives to teach ecological literacy through hands-on activities. Sheehan says. The primary program reaches kids ages four through 10, while four weeks of a "trip-type camp" called Farm Trek serves campers aged 10 through 16.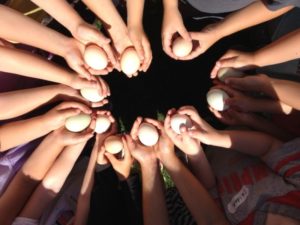 For the younger campers, the program addresses four subjects: farm animals, garden, forest habitats, and freshwater pond life, Sheehan says. "Everything we do is centered on those topics," she says.
Campers may dig up potatoes to make French fries, or cook kale chips, Sheehan says. They may also harvest raspberries and make jam.
"We teach them about what plants need to live," she says. Campers compost their lunch waste, which is fed to pigs or added to the compost pile. "They learn about the cycle of nutrients through food waste," she says.
The camp also connects kids to the natural world through stories, choosing books with themes that match the current crop, Sheehan says.
"It's fun," Sheehan says. "We have a blast."
Farm camps, regardless of their size, share the mission of helping kids learn about their environment at its most basic level. Whether harvesting crops, feeding livestock, or discovering the wonders of woods and water, campers see an ecosystem from which they may ordinarily be removed. They get dirty, they have fun, and they learn. Like any other camp, it's camp at its best.