From Lyme to Lice: A Presentation on "Things That Bite At Camp"
Summer camp in Maine brings together thousands of kids from all over the world ready to enjoy all of the state's beauty. Maine's insects, however, can be uninvited but omnipresent guests. That's where Laura Blaisdell, M.D., M.P.H., and her husband, Andy Lilienthal, come in. Lilienthal is owner and director of Camp Winnebago, in Fayette. Blaisdell is a board-certified pediatrician and medical researcher who practices in Yarmouth, and is Camp Winnebago's medical director. On Tuesday they teamed up to conduct a webinar for Maine camp administrators on a topic all too familiar for anyone who spends time in Maine's outdoors – bugs.
The hour-long presentation reached about two dozen camp directors and focused on ticks, mosquitoes, and lice – all of which find their way onto campers each summer. And while lice are a nuisance – especially in a large-scale outbreak – ticks and mosquitoes can carry illness that warrants not only careful treatment, but preventive measures.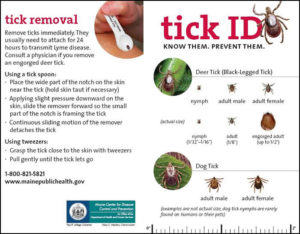 Deer Ticks
Blaisdell started with ticks, a concern because of Lyme disease, but also other because of other tick-borne illnesses such as Babesiosis, Erlichiosis, and Rocky Mountain Spotted Fever. Lyme is on the increase in Maine, Blaisdell reported, and it is of particular concern if undiagnosed and untreated at the time of onset. Neurological problems, and joint, muscle, and tendon pain can all be long-term issues in such cases, she said.
Fortunately, Lyme disease – which is transmitted by deer ticks carrying bacteria known as Borrelia burgdorferi – is both preventable and treatable, Blaisdell said. Preventive measures include avoiding high-risk, grassy areas frequented by deer, wearing light-colored, long -sleeved shirts and long pants tight at the wrists and ankles, wearing insect repellent containing DEET, and doing daily tick checks. For best results, Blaisdell advised that insect repellent (never containing more than 30 percent DEET): should be reapplied every one to two hours; should be used according to label instructions; should not be applied to the face or hands; and should be washed off upon returning indoors.
Blaisdell also described the best way of removing a tick. Using tweezers, camp medical providers or staff members should retract the tick slowly by the head; 30 seconds may be necessary to ensure the entire tick is removed.
Lyme disease is often diagnosed thanks to the presence of a rash known as Erythema migrans, or EM, Blaisdell said. The rash can start as a quarter or half dollar-sized red area which may clear from the center as a "bullseye" rash forms. Blaisdell pointed out, however, that the rash associated with Lyme can vary in appearance.
A child with Lyme will be ill, Blaisdell said. Symptoms include fever, chills, muscle aches, and swollen lymph nodes. Treatment is a two to three-week course of antibiotics. Treating a child for Lyme prophylactically is controversial, Blaisdell said. But if a tick bite occurs and such treatment is undertaken, it consists of an antibiotic the dosage of which is based on the child's weight.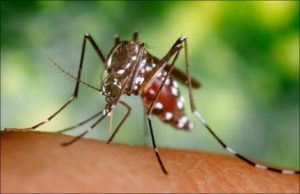 Mosquitos
Although mosquitos are an annoyance, they can also carry illnesses or lead to secondary infections. Blaisdell reported that of the 40 species of mosquitos in Maine less than half of those species bite. Only female mosquitos bite, and they can bite more than once.
West Nile, Eastern Equine Encephalitis, and secondary infections can all result from mosquito bites. With respect to West Nile, between 70 and 80 percent of cases show no symptoms, Blaisdell said. Symptoms, when they are present, can include fever, body aches, diarrhea and vomiting. With respect to EEEV, she said, severe cases can involve the onset of high fever, headache, chills, and vomiting. One-third of those individuals suffering from EEEV die; many who survive suffer brain damage.
Blaisdell said preventing mosquito bites is also helpful in avoiding "Skeeter Syndrome," a large local reaction to a bite. In addition, she said secondary infections as a result of bites can be treated with topical triple antibiotic cream.
Preventing mosquito bites is best achieved with repellent, wearing long sleeves and long pants from dusk to dawn, and eliminating sources of standing water, Blaisdell said. Camps also utilize a variety of methods to decrease the mosquito population at their sites, including spraying and introducing dragonfly larva to the premises.
Lice
Just as campers get bug bites, they also may get head lice. Blaisdell offered statistics and treatment suggestions for camps facing lice outbreaks. A few facts: a single louse can live 28 days and can lay up to 10 eggs a day. It takes 12 days for a louse to reach adulthood.  This cycle can repeat itself every three weeks if lice are not treated.
There are a variety of treatment methods for eliminating lice, ranging from prescription agents, "natural" products, and desiccation – using the heat of a hair dryer to destroy eggs, Blaisdell said. She said Camp Winnebago uses what is called the "Nuvo" method of treatment, which uses Cetaphil facial cleanser as an occlusion agent, a hair dryer to desiccate eggs, and manual removal. Instructions for this method can be found at www.nuvoforheadlice.com, Blaisdell said. This method avoids the use of a chemical substance, which may not be particularly effective and can cause side effects, she said.  Screening should begin at day seven days through 10 days after treatment and the child can be retreated every week until lice-free.
Blaisdell and Lilienthal also offered camp administrators suggestions for educating camp staff, preparing health center staff, and communicating with parents of campers before, during, and after insect encounters.
Out-of-doors activities – at summer camp, on vacation, or in the backyard – bring kids and adults into contact with insects of all types. Laura Blaisdell and Andy Lilienthal gave camp directors in their Tuesday webinar a brief and thorough guide to managing three types of common concern. But their advice extends beyond the boundaries of Maine summer camps. Parents and caregivers guiding kids in their outdoor adventures – as well as enjoying their own – will benefit from the couple's expertise as they battle bugs this summer.