Former Counselors Reflect: Summers at Camp Were Resume-Builders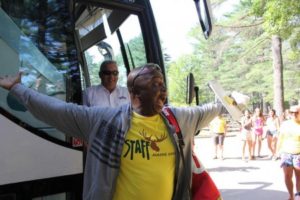 Being a Camp Counselor Teaches Life Skills
High school and college can be stressful, no doubt, full of decisions about academics, job experience, and careers. And the pressure is great. It comes from school and peers and parents, and is a huge factor in how young adults choose to spend their summers. Now more than ever, students are faced with questions about how to build a resume and how to prepare for the next step.  For some former counselors, now launched into the next step of their lives, there was no better place than to spend consecutive summers working with campers.

Mac King and James Riddleberger both served as counselors at Camp Kieve, in Nobleboro after being long-time campers. Today they are launched in careers, King as a television reporter in New York, and Riddleberger a physician in New Hampshire.  Both say their four years as camp counselors gave them an invaluable skill set, skills they may not have obtained in more traditional summer jobs or internships.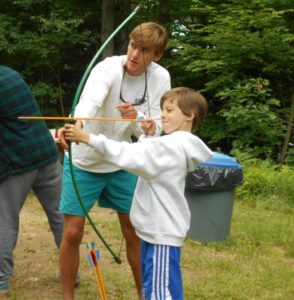 King, a Bates College and Northwestern University graduate, says being a camp counselor instills "person-building skills."
"I think that's really important," he says.
While King acknowledges that internships are necessary for certain careers – like investment banking – serving as a counselor teaches "real world" skills that summers in an office might not. Among those, King says, are problem-solving and creative thinking. Experience as a counselor also translates well in job interviews, he says.
Mac King's fellow Kieve counselor, James Riddleberger, who attended Middlebury and then Tulane's medical school, says his time as a counselor helped shape his choice to pursue a career in medicine.
Riddleberger says that he found satisfaction in helping campers who became injured. In addition, he says he pursued an EMT certification "based in large part on my wilderness tripping experience."
But while camper injuries were only occasional, the day-to-day experiences at camp fostered skills that resemble those he is using in his medical residency in family medicine. Those include the ability to adapt to changes outside your control and relying on a team.
Riddleberger says young adults can "get caught up in what's the best thing for your resume and trying to figure out what that is."
"My career path changed multiple times from when I left high school to when I left college," he says. "I couldn't predict what would have been the best experience in summer. But the great thing about camp is that it teaches you a lot of life skills."
"I really value my time at Kieve as helping me a lot, and moving me along to the person I became."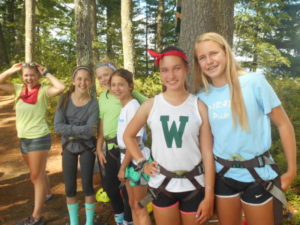 While King and Riddleberger are launched in their careers, two young women who served more recently as counselors at Wavus Camp for Girls are finding that their choices have also been influenced by their time at camp.
Frances Robinson graduated from St. Lawrence University in 2013, and after a few years working in Washington, DC, is now enrolled in a graduate program in public administration at Cornell. She says being a camp counselor taught her "everything from management to organizing to creative thinking to network building."
"It definitely set me up to be a leader at a young age," she says. "I can't think of a better way to develop a professional skill set than being a camp counselor," she says.
Robinson says the skills gained by being a counselor can get "lost within the stereotypes of the job."
"It is fun," she says," but that doesn't mean it's not hard work." Robinson says she also participated in internships while in college. "I don't think I was pushed to the same degree as I was working at camp."
Wavus, like Kieve is a tripping camp. "It's quite a responsibility for a young adult to receive," Robinson says. "You develop maturity and interpersonal skills."
"I think we need to redefine the skill sets that come out of being a camp counselor," Robinson says. "People are looking for bullet points for their resume."
In Colorado, former Wavus counselor Mandy Mathias is serving as an AmeriCorps member, working with the Mile High Youth Corps in energy and water conservation. In February, Mathias was named a Corpsmember of the Year, one of six winners out of the 23,000 Corps members currently serving.
Mathias was slated to begin business school after graduating from Wake Forest University in 2015, but instead hiked the Appalachian Trail and then began her AmeriCorps stint. She still plans to attend business school, but with a renewed focus.
Mathias says being a camp counselor is "a huge balancing act."
"The biggest challenge is learning how to balance different responsibilities," she says. "At the end of the day, even though it's super challenging, it's super rewarding to see the direct impact you can make on someone's life and well-being."
"Camps are a really unique place to grow and learn," she says. "I saw that in my campers and I saw it in myself."
Mathias agrees that there is real-world pressure to do something else, get a serious quote, unquote, job."
"Taking that time to step back is a camp thing," she says. "If you really, really want to do something, it's not going to go away."
"Working as a camp counselor prepares you to be able to sell yourself," Mathias says. "It can foster in you some confidence going into whatever opportunity you may be dealt."
Working at Camp is the Human Side of a Job
Louise Fritts Johnson, director of girls' Camp Arcadia, in Casco, says she sees the pressure counselors feel to leave camp and obtain more traditional summer jobs. Pressure also comes from the fact that as women progress through college they may have year-long leases that prevent them from returning to camp. In light of this pressure, Johnson says it is important to consider the level of responsibility counselors hold.
"What working at a summer camp gives is the human side of a job," Johnson says.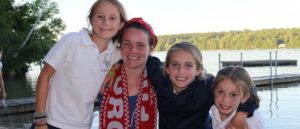 Johnson says a good example is a young woman, currently in her third year at Harvard, who continues to come back to camp despite pressure from both the university and her parents.
Her experience working with kids, managing staff, and utilizing leadership skills all offer something "she can't get anywhere in a typical internship," Johnson says. "She feels the skills she's gaining each summer at Arcadia are helping her be a better person for the job after college."
But the pressure to leave camp is real. Johnson says a two-year counselor who worked in campcraft and was a "positive, fabulous role model" for seventh-grade girls just texted her that she will be working in a law firm in New York for the summer. She wants to attend law school, and the decision seems essential.
One the other hand, Johnson says, a former counselor who went on to do event planning in New York, and then returned to Maine to work on Arcadia's centennial celebration, is now working for the Nature Conservancy.
"Young staff members, and where they are in life, want to do good things in the world," Johnson says. "To change a child's life is pretty awesome."
King and Riddleberger, Robinson and Mathias, have found their paths, and acknowledge that their camp experiences have helped shape their skills and the direction their lives have taken. Each of them spent consecutive years as counselors, growing in their roles and responsibilities each summer. They may have worn shorts and hiking boots, carried backpacks instead of briefcases, but their summers guiding youngsters were key elements of resumes that truly set them apart.