Youth Camp Directors, Legislators, Share Insights and Information in Hall of Flags Event
When representatives of the Maine youth camping industry make the trip to the State House, it is often with a particular issue in mind, an item of business for which they are advocating or to which they are opposed. But on May 1, more than 20 Maine youth camp directors, plus a handful of business members of the non-profit membership organization Maine Youth Camp Association (MYCA) set up tables and displays in the State House's Hall of Flags. Their goal: to simply meet legislators, answer questions, and offer a look into the vast benefits of youth camping in Maine.
Newell Augur, Esq., the MYCA lobbyist, says he suggested the event, based on the experience of other clients.
"They come to the state house, meet legislators on their own terms — reach out to them when they don't have an issue particularly pressing," Augur says.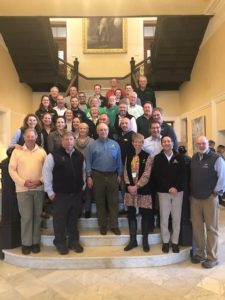 One benefit of the May 1 event date was the fact that the legislature was not in session, Augur says. Rather, legislators were meeting in committees, and could take the time to more fully engage with camp representatives, he says.
Those representatives came from a broad cross-section of Maine youth camps. Two dozen youth camps from nearly every Maine county demonstrated just how wide-ranging Maine's youth camping opportunities are. Representatives included camps serving youngsters with developmental challenges, single gender and coed camps, residential and day camps, agency camps and camps that are tuition-free.  In addition, legislators could learn more about the Junior Maine Guide Program, an outdoor living skills certification program created by the Maine State Legislature more than 80 years ago.
In addition, two of Maine Summer Camps' 138 business members — Chalmers Insurance, and Northeast Charter — were able to lend insight into how the youth camp industry and Maine businesses support each other.
"There was a marvelous cross-section and energy from folks all over the state," Augur says. "We got nothing but positive feedback from legislators."
Maine youth camps extend vast growth opportunities to children, both in terms of learning and advancing new skills and in developing socially through group living, collaborating and problem-solving, and increasing in confidence and independence. But camps also have other impacts, says Maine Summer Camps Executive Director Ron Hall. Camps host community suppers and invite local schools to use their facilities; they provide more than $5 million in camp scholarships to Maine children; and they have more than $200 million in direct and indirect impact on the Maine economy, he says.
"What a nice chance to talk about what we do," says Augur, "without any agenda."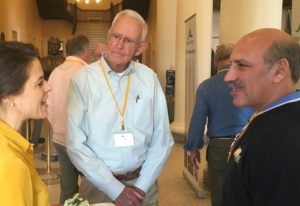 "We need to take the opportunity to tell them about who we are and what we do," he says. "Why continuing to support youth camps is important for the development of youth and the development of the economy."
Jack Erler, Esq., MYCA counsel, says explaining the youth camp industry to legislators sometimes demands the clarification that a "youth camp" means a children's camp licensed by the state Department of Health and Human Services. This allows camps to indicate that they are indeed part of a "regulated industry," he says. It also allows youth camps to make the distinction from entities that do not have that designation.
Like Augur, Erler says the timing of the event meant legislators had time to engage. Conversations were both professional and personal, he said.
Peter Hirsch, MYCA board president and director of boys' Camp Androscoggin in Wayne, says the event offered legislators the opportunity to be in "their backyard, at their camp," to talk about what camps do for their communities as the State of Maine.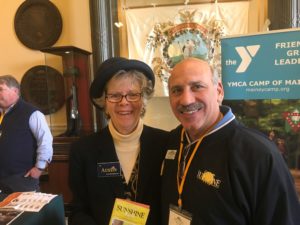 "I think it was the first opportunity that we had just to talk to legislators without it being in a hearing, or outside a hearing room about a particular issue," he says. "We often invite them to visit us in our workplace. We thought it would be nice to reach out, travel to their workplace."
The event was also a helpful follow-up to Maine Summer Camps' "Backpack Project," a youth camping information campaign conducted in 2018. A professionally designed paper "backpack," which contained a full spectrum of information about the youth camping industry, was sent to each candidate running in 2018 for Maine governor and legislature, and the U.S. Senate and House. As Jack Erler says, the Hall of Flags event allowed camp representatives to remind legislators of the backpack information.
The summer youth camping season begins mere weeks away. Camp directors across Maine will turn their attention to the youngsters they serve, to fulfilling the missions of their organizations. But these directors know their work impacts not just youngsters, but communities and the state. By gathering in the Hall of Flags, with the goal of connecting with lawmakers, camp directors demonstrated yet another dimension of their multi-faceted roles in supporting youth development.