Why Are Maine Camps Special?
Maine camps are steeped in history and nature, values we fear we are losing today.
Children from all over the country have been coming to camp in Maine since the late nineteenth century. While Victorian parents may not have been desperate to unglue their children's eyes from a tiny, all-compelling screen, there has always been a sense of the green world away, a place lost to us in our civilized state (which we of course do not want to give up entirely). Sending your child to Maine is like sending them into the best parts of the wilderness.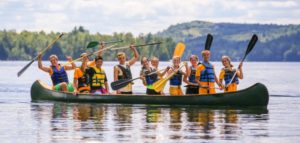 Maine is a world apart. So much of the land is undeveloped, our nature is pristine. Your children can experience deep, clear lakes, fresh pine forests, skies so dark stars you never fathomed are visible every night for you to wish upon. Maine provides an escape from the rat race, from consumerism, from the frenetic pace of life for so many of us, including our hyper-scheduled children. Allow them to wake up with the sun and walk in the woods, unfettered from technology and the pressure of the school year life. Maine's wild nature will have an effect both enlivening and soothing on your children; they will grow more capable, more confident, and calm as they learn from nature and rely on themselves.
To become a living part of history, a link in the chain of community, helps develop an identity and establish a sense of self. Maine's long tradition of summer camp provides stability, a grounding presence in the life of your entire family. As your child grows, returning to camp summer after summer they will recognize what it means to be a camper. To care for and be taken care of by others, including peers, children older and younger, counselors and staff. They will relish the opportunity to contribute their voices to a place that has stood the test of time. Maine camps are most incredible because of the people. Everyone involved has a deep love of camp life and camp culture, and has so much to share. It is an invaluable experience that cannot be replicated anywhere else in the world.