Ways Maine camps contribute to kids' growth and development
Living in cabins and tents. No electronics.  Exploring mountains and waterways. Taking risks, learning new skills, fostering lifelong friendships. Maine's youth camp season will be in full swing in a matter of weeks.  Tens of thousands of youngsters from around the country and all over the world will soon arrive for a summer of living and learning in the state's vast natural beauty.  At some Maine camps, these activities have taken place for more than a century.  Camp personnel who have devoted decades to these institutions say that in some respects camps have certainly changed over the years. But they agree that in a number of ways – many key elements to a beneficial camp experience – camp is much like it was generations ago.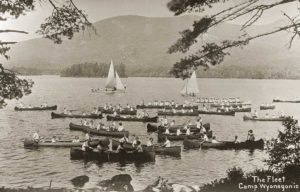 Camp Wyonegonic, on Moose Pond in Denmark, is the oldest girls' camp in the country. Founded in 1902, it offers a broad array of outdoor living skills, athletic, and creative arts programming to girls from across the country and around the world.  Integral to that programming for more than 50 years has been Carol Sudduth, who along with her three children, own and operate the camp.
Sudduth and her late husband, George, purchased the camp in 1969, and she says she is often asked how it is different today. "Many of children's needs are the same," she said. "We're still in a place where camp is a great place for growth and learning about oneself."
Wyonegonic campers benefit socially in much the same way today as they did five decades ago, Sudduth says. Group living skills, the ability to share, respecting and appreciating individual differences, and making friends are all key elements of the camp experience, she says. And while the world is changing, Sudduth says that, as a camp, Wyonegonic is committed to holding onto its primary values.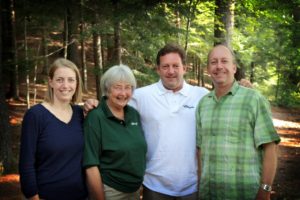 Case in point: no cell phones. In fact, Sudduth says the camp's "no cell phone" policy is a selling point for parents.
"We like kids to appreciate the value of writing letters home," she said. Moreover, girls benefit from the policy in other ways, she says. "There's still a belief that the social interaction we can give them at camp is an important stepping stone as they start carving their journey into the future."
Many activities offered at the camp have endured over the decades as well, she says. Regardless of their skill level, girls continue to learn in a "very non-threatening environment," she said.
In the past 20 years the camp began offering high and low ropes courses, Sudduth said. Teenaged girls "like the challenge" of the high ropes, as well as windsurfing, she says.
Camp Wyonegonic has always focused heavily on its outdoor living programs – mountain climbing and canoeing – which provide campers with leadership and survival skills, Sudduth says. "That isn't so brand-new," she said.  "But you cannot ignore the fact that they're living in a world different from the one you and I grew up in."
Sudduth says it is often 20 years before a camper writes to express her appreciation. Women write to say that camp taught them independence, decision-making, and respect for differences, she says.
"Maybe those things happen at other places," she said, "but they certainly do happen at camp."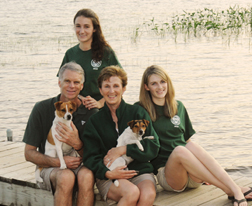 Dave and Linda Suitor, directors of Camp Timanous, a boys' camp in Raymond which celebrated its centennial last summer, also laud the electronics-free environment of camp.
"The idea that we're sort of maintaining our roots is important to us," said Dave Suitor. Research is demonstrating that "the things we were doing 100 years ago are more relevant than ever," he said.
Camp Timanous has made some program changes, he says, such as offering soccer and challenge courses. The camp also offers more wilderness trips than it used to. And while kids don't have electronics at camp, technology has made an influence, he says. Parents can track their sons' progress through websites and blogs, for example.
A key element of camp has endured through the decades, Dave Suitor says: "the friendships."
In addition, campers' ages, eight to 15, make them a "very malleable audience," he says. "Before they're too cynical, you can really do a lot with them in subtle ways to show them how to act right," he said. The camp has a positive approach to discipline, and "a lot of public recognition of accomplishment."
At Wohelo Camps, in Raymond, Louise Gulick Van Winkle – the granddaughter of camp founders Dr. Luther Halsey and Charlotte Vetter Gulick – and her husband, Davis, were at the helm for more than 30 years.  The camps, Little Wohelo and Sebago Wohelo, serve about 100 girls each, and Van Winkle says when alumnae return to visit they marvel at how little has changed.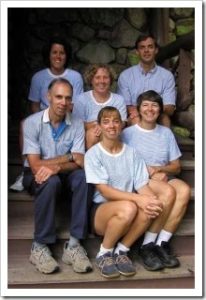 "The activities really are very similar," she said. Yes, campers today can windsurf and wakeboard, but "they danced back then and they still do dance," she said.  Similarly, campers continue to weave on full-sized looms, and they continue to enjoy crafting silver.  Another decades-long tradition is awarding campers their own paddle – which they paint – as their first swimming honor.
The camp experience "is more important today than in years gone by," Van Winkle said, "especially now with all the electronics."
"It's really fun to see the number of articles coming out telling of the importance of getting off the Internet," she said.
Meanwhile, camp traditions have endured, she says, even when they thought "kids are not going to stand for this."
"They wanted things just the same."
The reward, says Van Winkle, comes from "alumnae coming back saying 'it's just the same.'"
Jean McMullan, who from 1962 to 1993 directed Alford Lake Camp in Hope, now serves as its consulting director.
"How things have changed is pretty dramatic, and how they've stayed the same is also dramatic," she said. "Every child still needs love and safety and unconditional backing from leaders. That has not changed a bit."
And although the camp's programming has grown over the years, the trips and offerings continue to reflect  McMullan's goal when she and her husband first took on the camp in the early 60s:  to give girls the chance "to do everything possible to experience the challenge and fun and wonder of the out-of-doors."
Campers today and campers of decades past "need all the same love and safety and backing," McMullan said. "The difference today is, we inadvertently are doing very serious destruction to our children."
That destruction comes in the form of protection, McMullan says: "they aren't allowed to make mistakes."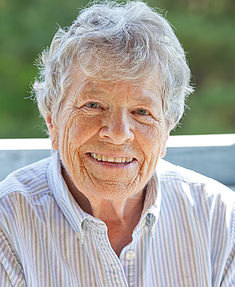 McMullan says kids will benefit if staff "gradually let go and let kids be kids for play, for fun, for making their own games, for not having adult interference."
Alford Lake Camp will send out 25 trips this summer, including the 56th summer of a seven-week Maine Appalachian Trail backpacking trip for eight campers and two leaders.  Another group will spend five weeks hiking in the Alps.  ALC also sponsors a seven-week Nova Scotia trip that includes living for three weeks on an open pulling boat.
Camp activities demand "creativity and expectation," McMullan says. "The expectation of excellence is a given."
"Camping gets you away and on your own, but you don't hover," McMullan said. "You just cross every 't' that you can and then allow them the dignity."
Camps that have passed the century mark have adapted to changing times, no doubt, but as these Maine camping industry leaders have described, much of their success may be attributable to resisting such change.  The camp experience is intended to give kids the chance to practice independence, learn new skills, take risks, make friends.  That was true a century ago, and remains true today.  Camps like Wyonegonic, Wohelo, Timanous, and Alford Lake are dedicated to their missions, dedicated to their youngsters.  Times have changed, facilities have improved, programs have expanded. But the essence of camps remains the same. As Jean McMullan describes it, kids "need love and safety and backing." Maine's camp professionals know that will never change.