The Junior Maine Guide Program: Reaching into Public Schools, Sharing and Teaching Outdoor Living Skills
Every morning, the 19 students in Eric Robinson's 7th grade homeroom at Nokomis Middle School, in Newport, begin the day learning about living in, exploring, and appreciating their natural world. Yes, Robinson spends a bit of the 25-minute homeroom period on morning announcements, but since September he has dedicated the remaining 20 minutes to teaching the Junior Maine Woodsman curriculum.
That curriculum is part of the Junior Maine Guides program, established in 1937 by an act of the Maine legislature. Today the program is a partnership between the state Department of Inland Fisheries and Wildlife and Maine Summer Camps, a nonprofit membership organization providing a broad range of support to about 130 Maine youth camps. And since its establishment more than 80 years ago, the program has certified nearly 3000 teens as Junior Maine Guides. That certification takes place after a week-long testing camp, currently held each July at the Stephen Phillips Memorial Preserve in the Rangeley Lakes region. From assessments in fire and shelter building, to cooking and axe/knife skills, to map and compass use and tree identification, JMG candidates take more than 20 written and practical tests. Their achievement marks acquisition of a vast range of outdoor living/camping skills; it also fosters commitment to environmental stewardship, independence, plus problem-solving, leadership and team-building skills.
In Eric Robinson's homeroom, students start their day, every day, learning the basic Junior Maine Woodsman curriculum. Among the variety of topics, Robinson has taught canoeing on Nokomis Pond, tree identification, and has demonstrated use of an axe.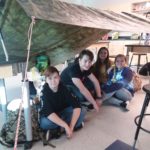 "It's fun to see kids exposed to this information," he says. "There's enthusiasm classwide."
And although youngsters in the Newport region of Maine are surrounded by opportunities for outdoor recreation, Robinson estimates that about 70 percent of his students are new to the curriculum's content.
"I think a lot [of children] get left to be babysat by electronic devices," Robinson says. And while 30 percent of his students are familiar with some topics, he says that simply touching on the full range of curriculum topics will provide a background for each student to build on.
"I'm really pleased with the kids' response," he says. That first 25-minute period of the day gives kids a "soft landing" into the school day, he adds. They can get settled and focused on that day's Junior Maine Woodsman topic prior to their first class. In addition, he says the experience affects kids' behavior, noting a direct correlation between how teachers utilize homeroom time and how students respond.
Robinson says spending outdoor time with students also influences communication. "It provides an opportunity to invite conversation," he says. "It may be about last night's game or something they did with their family."
Currently in his 8th year of teaching, Robinson is a seasoned outdoorsman who can bring his own passion and expertise to the classroom. A longtime hunter and fisherman, he says he camped locally throughout his childhood. And as a lifelong Newport area resident, he knows the territory.
Carilynn Hanson, a science teacher at Katahdin Middle School, brings a similar background and commitment to her use of the JMG curriculum. Hanson began teaching outdoor living skills at the school after taking students to Bike Maine, an annual biking and camping event. "They liked camping so much, I started an outdoor education program." This year Hanson is using the JMG resource book, The Art of Outdoor Living, for the first time, sharing the curriculum from "the very beginning of the book."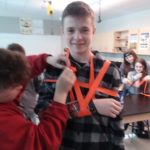 An additional advantage is that Hanson's class is part of the middle school's formal course offerings, an elective class built into the school day. While most electives change quarterly, she says, her class is full-year. It will enable the students to touch on a full array of seasonal activities.
Hanson's current class includes 14 boys and one girl, but has piqued broad student interest. An igloo-building project sparked requests for a sledding area, for example. Hanson says they cut the brush on a hill, and a school custodian even blew snow in so they could build a jump. The school recently bought sleds and Hanson says that nearly the entire middle school student body now spends a half hour sledding each day.
"Their attitudes are much better," she says.
In her classroom, brand new compasses have enabled students to learn map and compass skills, including mapping the soccer field, learning about GPS coordinates, even embarking on geocaching adventures.
Hanson says her students tend to "usually be on a computer."
"This is great," she says. In addition, she runs an afterschool snowshoeing program, another avenue for getting kids outdoors and away from technology. In fact, she says she had a student, "a technology person," who wanted to drop her elective. "His mother called me and said 'don't you dare let him drop it.'"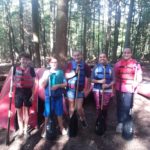 Outdoor living skills programs also change the student-teacher dynamic, Hanson says. Walking in the woods or cutting brush together can give rise to conversations about what is bothering kids, she says. "We're doing our job. We trust each other," she says. Students collaborating to solve problems also makes the program special, she says.
Indeed, all the benefits of the program have resulted in its being tied fully into the science curriculum for the upcoming year, Hanson says. "I'll be outside most of the day." As for her students, "they would do anything to get outside." Hanson's outdoor classroom will host her science classes; outdoor living skills will be tied into that curriculum, she says.
Hanson says her students have shared their ability and interest with the community, including working at both Baxter State Park and the Katahdin Woods and Waters National Monument last summer. Students have also pitched in cutting brush on area ATV trails, she says.
Katahdin Middle School also has the benefit of its wilderness location. Students examine various animal tracks — "they love identifying that stuff," Hanson says — and recently witnessed a beaver slide across the ice on a local pond and dive into a hole. Plus, there's the local moose to observe. "He's a regular around school; they wait for him to come," she says.
"When you build that relationship with them, they feel safe," she says. "A lot of things in the wild trigger things. [The students] earn my respect and I earn theirs."
In the Sebago Lakes region, longtime JMG instructor and examiner K Bolduc shares her wealth of knowledge at Lake Region High School in Naples. Bolduc, who has taught at Lake Region for 31 years, earned her own JMG certification as a Girl Scouts of Maine camper; she attended both Camp Pondicherry in Bridgton and Camp Natarswi at the foot of Mt. Katahdin. And her involvement with the program has continued ever since.
At Lake Region, in the early 2000's, Bolduc says one group of her students was particularly "gung-ho on doing the program." They took a three-day canoe trip on Mooselookmeguntic Lake in the Rangeley region, and four of the students carried their enthusiasm all the way to JMG test camp. In those days the camp took place on Swan Island, in the Kennebec River, a five-minute ferry ride from Richmond. Bolduc says one of the youngsters' fathers joined them as their adult chaperone; three of them earned JMG certificates.
Bolduc says her classes have been too large and lacked sufficient parental involvement to enable any groups to return to test camp since then. However, Ron Fournier, director of the University of Maine Bryant Pond 4-H Camp and Learning Center as well as a Maine Guide and JMG instructor/examiner, regularly visits Bolduc's classes. Scholarship support from the camp has enabled a number of Lake Region students to train formally for JMG test camp at Bryant Pond, Bolduc says. They have been "pretty darn successful," she says.
Bolduc's course is a half-year elective. Block scheduling provides 80-minute classes that meet either two or three times each week, supporting productive time outdoors, she says. A schedule change in the upcoming year may reduce that outdoor time, she says.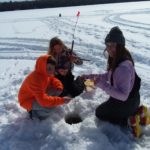 Bolduc says she approaches the course differently each year, enabling students to take the class more than once. Fall weather makes it easier to get outside to chop wood and build fires, while spring brings "awful" bugs and no guarantee of fully melted snow, she says. Students learn animal identification, topographic map and compass skills, plus shelter and fireplace building. They hear from Maine Guides, Maine game wardens, and visit the fish hatchery in New Gloucester. "My kids are getting more than they would if they just went to camp," Bolduc says. "Camps have to teach to the test."
"They eat the outdoors up," Bolduc says of many students. "The ones that really want it do it again and again." In fact, one student took her course several times, attended 4-H camp, and earned JMG certification on his second try. With the goal of becoming a game warden, the student attended the police academy, and upon reaching the game warden minimum age requirement, recently achieved his goal, she says.
The program helps develop students' "respect for the land and each other," Bolduc says
While Bolduc shares her JMG interest and expertise as a high school science teacher during the academic year, she continues to guide aspiring JMGs at Camp Runoia each summer. A girls' camp in Belgrade Lakes, Runoia sends a contingent of campers to JMG test camp annually; Bolduc leads the program.
The decision to train for certification often stems from a Runoia camper's broader goals, Bolduc says. Girls may choose to earn money away from camp, such as by lifeguarding, she says. Others pursue their commitment to achieving JMG certification and return to Runoia for training and test camp.
For K Bolduc and for her fellow teachers Eric Robinson and Carilynn Hanson, teaching outdoor skills in their schools is changing students' educational experiences — with potentially lifelong impacts.
Moose Curtis, who was a longtime Hebron Academy science teacher, has served as director of the Junior Maine Guide Program for more than 40 years. His belief in the program generally, its importance and impact, are grounded in decades of watching teens demonstrate not only great ability in outdoor living skills, but also demonstrate other lessons for a lifetime.
In a recent email, Curtis pointed to "huge concern" from those who earn their living through outdoor activities: "the number of folks interested in using the out-of-doors is shrinking." Curtis says this is evidenced by observations of those involved in the outdoor retail business, Maine Guides, and the number of licenses sold for outdoor recreation activities.
Curtis's recommendations are clear: "Anything that can be done to get folks out into nature is important." There is value in learning to play outdoors, and nature can teach actual lessons, he says. In addition, Curtis promotes the view that time outdoors permits additional relaxation and "helps develop self-confidence."
Youngsters "learn how to entertain themselves, as opposed to being entertained," he says.
In addition, knowledge of outdoor living skills supports individuals' quests for "hands-on" lifestyles.
Curtis says that the JMG program curriculum includes these skills. The work is challenging, yes, but students who learn the material and skills develop confidence and demonstrate personal growth. "The JMG program is not an easy one," he says, "but once an individual has gained these skills through practice and just using them, the individual feels a sense of accomplishment."
Accomplishment. Confidence. Outdoor play. These are just a few of the many, many benefits of learning the outdoor living skills described in the Junior Maine Guide program's broad curriculum, Whether students are aged 11, such as many at Nokomis and Katahdin Middle Schools, or approaching high school graduation at Lake Region High School, each is embarking on both learning and adventure, facing challenges and possibly fears. But there is a common denominator each of these public school students shares: the chance to learn in a different — outdoor — setting; the opportunity to appreciate Maine's wilderness and become stewards of their environment; and the privilege — and responsibility — of becoming experts in a variety of outdoor living topics.
Like the thousands of Maine youth campers who have launched themselves into the activities, adventures, and team-building elements of JMG preparation, public school students are now benefiting from their teachers' knowledge and passion for the outdoors. Moose Curtis and K Bolduc — institutions of the Junior Maine Guide program — will tell you: hands-on learning in Maine's outdoors not only provides an education; it forges the kind of appreciation of, and commitment to, the natural world that create reciprocal benefits for a lifetime.