The Teen Wilderness Expedition: Discovering what Piscataquis County has to Offer
Connecting Youth to the Outdoors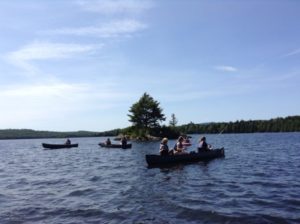 Despite Maine's enormous natural beauty – from woods to lakes to coast – not all kids get outside. One organization, in conjunction with the Appalachian Mountain Club, is trying to change that.
The Piscataquis Soil and Water Conservation District, based in Dover-Foxcroft, will offer its Teen Wilderness Expedition to kids aged 12-16 this summer. The program, launched four years ago thanks to a Maine Community Foundation grant, takes participants into the Maine woods for three days and two nights. The hope, says Educational Coordinator Kacey Weber, is to impart an appreciation for Maine's outdoors, and maybe even plant the seed for career ideas campers hadn't previously considered.
"We strive to connect youth to the outdoors in meaningful ways," Weber says. "The idea is to get kids outdoors and get them engaged outside."
Weber says the program is designed to expose participants to the broad variety of possible outdoor activities. Over the three days, July 11-13, participants will hike, learn to fly fish, even make tie-dye t-shirts with natural dye. They will also enjoy leadership skills-building exercises, and have plenty of time to relax.
"We get them thinking about the natural world," Weber says.
AMC Collaboration
The collaboration between the Piscataquis Soil and Water Conservation District and the AMC also gives participants a chance to learn about potential career options. In past years, naturalists, foresters, and artists have all offered kids their insights.
"The gist of it is to get [participants'] interest piqued," Weber says. "We're building future stewards of our environment."
This year's program will take 25 kids northeast of Greenville, to Second Roach Pond and the AMC's Medawisla Lodge, a brand-new AMC hut. The lodge is opening in July, and is located seven miles from Kokadjo.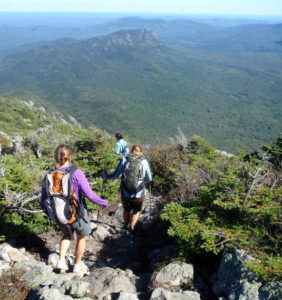 "Everyone is encouraged to try everything we put together," Weber says.
Because the program often has repeat participants, the program has differed each year, Weber says. The program is currently about half-full, she says. The registration fee, which varies depending on whether participants are from Piscataquis County, covers the full cost of the program, including all gear, lodging at the hut and all meals and snacks. To learn more, participants and their families are encouraged to visit the Piscataquis Soil and Water Conservation District's website at www.piscataquisswcd.org or call Weber directly at 207-564-2321 X 3. The registration deadline is June 23.
"It's really an amazing program," Weber says. And it teaches kids what their backyard has to offer, she says. Scholarship assistance is available, she says.
The Teen Wilderness Expedition, thanks to the efforts of the Conservation District and the professionals at the Appalachian Mountain Club, is another example of the many opportunities throughout the State for youngsters to appreciate Maine's outdoors this summer. From fishing to kayaking to enjoying delicious fare at the newly opened lodge, kids have the chance to connect with each other and nature. It's a three-day experience that could open a whole new world.