Summer Earth Day: Camps Eating Local, Teaching Lessons at the Same Time
While the official Earth Day falls in April, camps throughout Maine celebrated their 3rd Annual Earth Day by focusing on eating local. The initiative of Maine Summer Camps, a membership organization of more than 120 Maine member camps, took place on July 7 and 8, and gave kids yet another chance to appreciate the resources of Maine.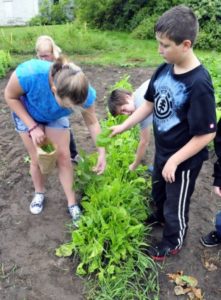 Camps Highlight Local Foods, Environmental Stewardship, And Sustainability
For many camps, eating local is a way of life. Many Maine camps boast their own gardens; many Maine campers pitch in with weeding and harvesting. Similarly, camps across the state seek to foster an appreciation for the natural world as a core value and part of their missions. But Earth Day last week gave camps the opportunity to highlight even more specifically local food producers, environmental stewardship, and other elements of sustainable practices.
Camp Wawenock has a "Green Team" for girls
At Camp Wawenock, a girls' camp in Raymond, assistant director Kristy Andrews says the camp planned to serve locally produced food at each meal last Saturday. While the camp's chef regularly uses locally produced food, Andrews says Saturday's menu was local from start to finish, including local pork and cole slaw for lunch, local chicken and roasted veggies for dinner.
Camp Wawenock also has a "Green Team" for girls interested in environmental issues. Andrews says that group was charged with publicizing Summer Earth Day to campers. And because it's a girls' camp, she laughed, "there will probably be a skit."
"We'll leave that up to them," she says.
Campers Visit Mulberry Farms in Raymond
The event may have had added meaning to the camp's youngest girls, who recently took a field trip to Raymond's Mulberry Farms, which supplies some of the camp's produce.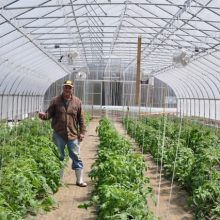 The day also gives campers a chance to put aside camp uniforms and dress in Earth Day-themed garb, Andrews says. Last year campers dressed as hippies.
Celebrating Summer Earth Day aligns with the camp's philosophy, Andrews says.  "Generally, at Wawenock, a key value is the love of the natural world."
Camp Timanous Supports Local Foods from Good Life Market
Nearby, at boys' Camp Timanous, also in Raymond, director Linda Suitor says although a camp centennial event will push their celebration of Earth Day back a few days, once again, they will recognize the day with local foods, right down to the coffee from the Good Life Market in Raymond and donuts made nearby.
"We love to support local producers," Suitor says. "We're always trying to stress being environmentally responsible."
Camp Arcadia Started A "Plate Waste" Project
Otisfield, Camp Arcadia for girls turned the event into Earth Week, according to director Louise Fritts Johnson.
"We started last Sunday with all our different age groups making our world at camp here a little more beautiful," she says. That included litter pick-up along the road for older campers, plus planting flowers around the campus.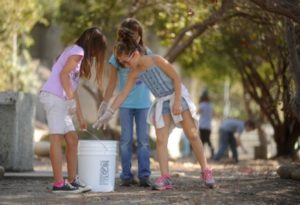 On Monday, the camp began its "plate waste" project, Johnson says. At each meal, staff recorded how much food was wasted on each plate. "As we bring awareness, waste goes down," she says. Tuesday was Leave No Trace® day, an initiative whose values the camp seeks to implement daily. And on Wednesday, campers talked about electricity and electricity waste.
"We did 24 hours with no electricity at camp," Johnson says.
Thursday was a day to discuss water usage, she says. That meant five-minute showers, and discussion about water usage in daily life. Johnson says the camp garden also provided lettuce and other produce for Thursday's lunch.
Johnson says that the Earth Day initiative also extended to daily programming. At campcraft, campers discussed how to be environmentally conscious in picking a campsite. In archery, campers tried to "use an element of nature to help you shoot," while in arts and crafts campers made paper with recycled materials. On the water, kayakers were mindful of appreciating the lake's natural beauty; sailors considered wind energy. Even the campers engaged in weaving got into the action, by weaving outdoors, between trees.
"What we try to do in our daily initiatives are bite-sized things," Johnson says. "We wanted something bite-sized that they could take home with them."
"The plate waste project has been really fascinating for the whole camp," she says. "The majority of the waste is the cereal and milk waste."
But each day, waste has improved, she says. "The servers are really proud to come up to me," she says.
Salad bar waste has also improved, she says. "They take just what they want, and ate what they took," she says.
Bryant Pond Teaches Campers to Hunt, Fish and Forage
At Bryant Pond 4-H Camp in Bryant Pond, director Ron Fournier also says environmental awareness is a key component of daily camp life. The camp supports local farmers, and grows a good deal of produce in its own garden.
"We teach how to hunt, fish, and forage," he says. "It's a big part of what we do."
Fournier says that for each week-long session, kids eat 17 meals at camp. And eating local is integral to them all.
"We have a local egg farmer, we drink Oakhurst milk, our own garden supports the salad bar," he says. Compost feeds the pigs, the camp has chickens, and a goat helps keeps the grounds tidy.
"We try to showcase a model of small-scale farming," Fournier says.
The camp also has an AmeriCorps member who teaches lessons about nutrition and helps coordinate harvesting chores.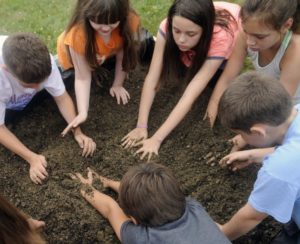 For many Maine camps, Summer Earth Day was a highlight of practices already in place. But by serving locally grown and produced food, and creating other projects related to the event, camps were in a position to do more of what they are already committed to: highlighting Maine's own vast resources, and teaching kids lessons that they can appreciate for far more than a single day.