Staying Connected: Camp Beech Cliff Shares, Virtually, a Spirit of Play and Friendship
(First in a series of how camps are engaging their campers in a time of unknowns)
Summer camp is months off. Face-to-face contact is limited. And children are home, away from the daily school connections with friends, teachers, and mentors. The challenges of the coronavirus pandemic have made life very, very different for us all.
Enter Matt Cornish, director of Camp Beech Cliff on Mount Desert Island, and his morning Facebook Live video gathering. With fun and with warmth, Cornish has signed on at 9:30 a.m. all week. Between 30 and 40 kids and adults have tuned in live for 20 minutes of camp songs, fun, and Cornish's gentle reminder of the camp's goals encouraging kindness, acceptance, and the commitment to "be your best self."
The March 13 announcement closing Mount Desert Island schools prompted an immediate question, Cornish says. "Can I give parents and kids 20 minutes of content to provide some familiarity and consistency, day-to-day, that can help frame what their days are looking like?"
"If something feels familiar and comforting and comfortable, at least they have a base for the day."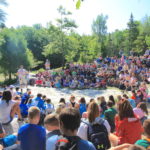 Take camp songs. Cornish has stood in the camp's stone amphitheater, known as Thunder Dome, and led high-energy, repeat-after-me songs complete with vigorous movement and top-of-the-lungs exuberance. It may be virtual, but it is 100 percent camp.
"Lots of camps are in a holding pattern," Cornish says. "We want our kids and families to know we're thinking positive" about the upcoming camp season. "Until we get there, let's keep having a piece of camp."
Last Thursday's video fun included what Cornish dubbed a "Sloppy Science Moment," the chance to explore how exactly baking soda, vinegar, and warm water react when mixed in a sealed sandwich bag. Cornish invited participants to take share photographs, assigned a hashtag (#cbcexplosion), and cautioned: it might be wise to do this activity in the kitchen sink.
Earlier in the week, Cornish pitched another fun and easy activity: scour the house for recyclables like cardboard and plastic and create a costume. Perhaps a knight with cardboard armor, or a plastic-clad dinosaur, he said. Hashtag,  #cbctrashions. "Like fashions," Cornish explained. "Only trashions."
Camp directors are nothing if not creative.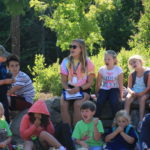 "I keep thinking, who is better prepared to come up with ways to rally the children than camp professionals," he says. After all, if a plan doesn't work, camp directors "still have five different plans in their back pocket."
Cornish says while live participation in his morning videos numbers in the dozens, the overall "views have been great." And his audience isn't limited to youngsters.
For good reason. Children and their parents are navigating at-home life together, with technology  playing a large role in staying connected both educationally and socially. Whether Cornish's fans are in elementary school or well into adulthood, they have the chance to sing camp songs, stand up and move around, and, among the moments of entertaining distraction, still remember those three unchanging Camp Beech Cliff goals: Be Kind. Be Accepting. Be Your Best Self.
As for Cornish's long-range plan? "The answer I keep giving people is that I'll be here at 9:30 a.m., Monday through Friday, until things get back to normal — or I run out of ideas!"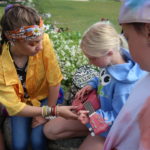 Camps face unknowns, to be sure. But just ask Matt Cornish: camps' commitment to children is unwavering. And each weekday morning, live at 9:30 or recorded anytime else, Camp Beech Cliff's commitment — demonstrated with energy and joy and care — is abundant.