Seeking a Summer Adventure: Finding the Right Camp
Long-time Maine camp director and owner Sarah Seaward says there's a camp out there for every child. Seaward has been at the helm of Raymond's Camp Nashoba North for decades; her advice for families looking for a summer camp is straightforward. Do your research and listen to your child.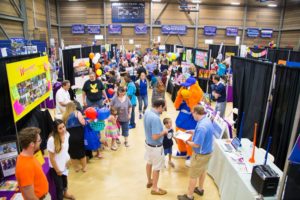 KIDS BENEFIT FROM A CAMP THEY CAN GROW WITH
Finding a camp is like choosing a school, Seaward says. Kids benefit most from a camp they can grow with. And when kids and parents compare notes and come to a decision together, she says, there's the best chance for a successful experience.
In recent years, technology has changed the face of camp research, says Catriona Sangster, director of girls' Camp Wawenock in Raymond, and president of Maine Summer Camps, a membership organization supporting more than 100 Maine camps. Parents turn to websites for their first exposure to camps, and benefit from search tools such as the "camp-matching" feature offered by the Maine Summer Camps website, at mainecamps.org. Seaward agrees. These days parents often initially forego face-to-face meetings with camp personnel, she says.
IN-PERSON MEETING CAN HAVE HUGE BENEFITS
But personal contact with camp directors – such as an in-person meeting or a Skype conversation – can have huge benefits, Sangster says. Parents can ask specific questions about a camp's philosophy, its programming, and its facilities.
After initial research, Sangster says, parents need to determine if they "see eye-to-eye" with camp leadership in raising their child.  "It's different for every person," she says.
"Nothing beats that human contact" between camp leadership and parents, Sangster says. "Nothing beats that conversation you have with part of a leadership team to see if your philosophies align."
PARENTS NEED TO BE SURE THE CAMPS ARE ACCREDITED
Thomas Doherty, executive director of Scarborough's Camp Ketcha, a day camp serving kids as young as age three, says parents first need to be sure the camps they are researching are licensed and accredited. And he welcomes conversations.
"What I really enjoy is when parents call and ask hard questions," Doherty says. "You should darn well be asking hard questions."
In some respects, finding the right camp is like choosing a therapist, Doherty says. Parents should give weight to gut instincts, he says. "The last thing you should be doing is sitting at your desk at work wondering if your child is having a good time."
Camps have a variety of means of informing families about their programs, Doherty says. Open houses, camp tours, and camp fairs are all ways of learning about summer offerings.
Camp fairs are a superb way of researching camps, says Seaward, because they offer face-to-face contact with camp personnel and exposure to information about specific programming and philosophy.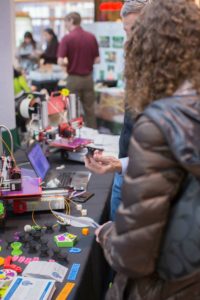 Two camp fairs in March will give parents some of that first-hand information.
Saturday, March 3, from 10 a.m. -2 p.m. at the Bangor Mall.
Between 30 and 35 camps will share information about their programs with interested families, says Ginny Grice of the non-profit Maine Robotics, which is sponsoring the fair.  This is the third year Maine Robotics has hosted the fair, she says. And there will be plenty of information about their programs.
Tom Bickford, executive director of Maine Robotics, says his organization will offer week-long robotics camps in more than 20 communities across the state, exposing kids to a broad range of STEM topics. From Berwick to Fort Kent, and Bar Harbor to Farmington, the organization will present a total of about 40 weeks of camp, Bickford says. Programming will include 3-D printing camp, LEGO robotics camp, and build your own computer camp.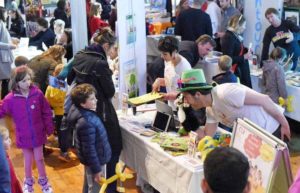 Sunday, March 18, from 1-3:30 p.m. at the East End Community School, 195 North Street, Portland.
Sponsored by Maine Summer Camps, the ninth annual fair will boast more than 70 camps, plus a food truck. Among the camps represented will be traditional overnight camps; arts, theater, and music camps; farm camp; ecology camp; YMCA camps; sports camps, and Girl Scout and Boy Scout camps.
Chris Moore, director of music education at 317 Main Community Music Center in Yarmouth, will be at that fair to share information about five weeks of music camp 317 Main will offer in July and August.  The programming will give kids two different opportunities to explore music and musical instruments, Moore says. For youngsters age six to ten, Acoustic Discovery Camp will introduce "what it's like to get some beginning skills on a variety of instruments," he says. During the week kids will work in small groups "going from notional to experiential" with ukuleles, fiddles, penny whistles, and keyboards, Moore says.
The camp experience will be low-key and fun, Moore says, and will culminate in a "low-pressure performance" on Friday.
Moore says Acoustic Discovery Camp reaches younger kids, but also provides a "nice way for an older kid who's never touched an instrument to be in an encouraging and welcoming environment." The experience often leads kids into other 317 Main instructional programming, he says.
Older children, aged ten to fifteen, with a minimum of a year of individual instrument instruction, may enjoy Acoustic Jam Camp, Moore says. That camp will be offered for two weeks, and will group kids with a coach to work on songwriting, melody construction, harmony and other aspects of producing a repertoire.
"Making music together speeds up the process of social connection," says Moore. "Music instantly breaks down barriers between people."
Moore says the camps will host between 25-30 kids each week.