New Camp Committee Finding Ways to Give Back
When the summer camp season ends, most camp personnel return to their work or school endeavors. But Maine camps also have year-round employees, a core group whose members often wear many hats in performing the vast range of tasks associated with operating youth camps. Some of those year-round employees are in the early stages of their professional camp careers; many have ascended to their positions after years as campers and seasonal staff members. In the past year a group of such young camp professionals has joined forces to form the Maine Summer Camps Outreach Committee.  Their goal is multi-faceted, says Kristy Andrews, assistant director at Camp Wawenock, a girls' camp in Raymond. Andrews, along with Matt Pines, a director at Maine Teen Camp in Porter, is heading up the committee.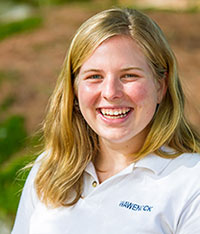 Andrews says the formation of the committee allows its members to get to know other young camp professionals, and to serve the community.
              "We want to get the word out about Maine Summer Camps, that we're here and we do things all year," Andrews said.
              Maine Summer Camps is a non-profit organization based in Portland that serves more than 120 member camps throughout the state.  Andrews says the Outreach Committee initially met last fall to "brainstorm ways we can volunteer in the year," as well as establish longer term goals. That brainstorming launched action.
              Committee members work at the Preble Street Resource Center soup kitchen once a month, and also volunteered at the WinterKids "Welcome to Winter" festival. Andrews says more will come.
              "Obviously doing good always feels good," Andrews said. The committee's efforts at Preble Street have prompted members to create another initiative, she says. Simple Meal will be promoted at Maine Summer Camps member camps this summer, and will encourage campers to eat a simpler meal, or forego a snack or dessert, with cost savings to be donated to soup kitchens or food pantries.
              "It's very exciting," said Andrews. "The possibilities are huge."
              Rory O'Connor, an area director at co-ed Kamp Kohut in Oxford, says that summertime often leaves camp employees in "isolated bubbles."
              "It's a really great way to get to know people at other camps and doing good at the same time," said O'Connor.
              Dana Zimmerman, who was recently named director of Center Day Camp in Windham, says she is new to the Portland area. "I wanted to invest in the community my camp is in."
              Zimmerman says the Outreach Committee's work can help break the stereotype that Maine camps are for "the elite, for kids from Boston and New York." As a day camp, Center Day Camp serves mostly Maine youngsters, Zimmerman says. But she wants to help convey the message that camp "is about youth development, for everyone."
              "It's transformational," she said. "We're invested in the community and youth in Maine."
              "My biggest goal is to have Maine camps known for their good work," she said.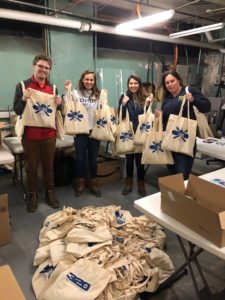 At Fernwood Cove, a girls' camp in Harrison, associate director Caroline Glovsky agrees with Zimmerman.
              "Even though we all come from summer camps, we're thinking about Maine year-round," she said. "We're all very committed to the idea of being more invested and involved."
              The Simple Meal initiative planned for camps this summer will help demonstrate that commitment, Glovsky says.
              "I can't wait to see how much more we can build on."
              Another young camp professional involved in the Outreach Committee is Carly Rapaport of Kamp Kohut. Rapaport touts Kristy Andrews with getting the group's efforts off the ground.
              "Kristy created this community for people working for camp. Let's make a difference and give back to Maine because we love it," Rapaport said. Maine camps also make vast use of the state's natural resources, she said. From beaches to mountains to waterways – and many visits to state parks – campers spend recreational time all over Maine.
              "We thought as a group, we're using Maine so much. What can we do to give back?" Rapaport said.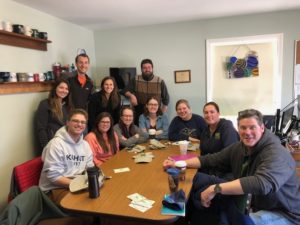 "A lot of summer camps use a lot of local resources," agreed Mary Boyle, director of Girls Scouts of Maine Camp Pondicherry in Bridgton. "It'd be great if we could give back to those places we use." In addition, Boyle says, the camp industry is growing.
              "We're looking for experiences to get kids in nature."
              Come June, thousands of youngsters will immerse themselves in summer camp programs and recreational opportunities. Members of the Maine Summer Camps Outreach Committee, like scores of other camp staff members, will invest long hours in living their commitment to kids. But when summer ends, the establishment of the Outreach Committee will continue to give its members new collegiality, a chance to spread the word about Maine's camping industry, and an opportunity to give back to the state where committee members have found a professional home.