Making Camp Accessible: How Maine Camps Strive to Serve Disadvantaged Youth
More than 60,000 youngsters attend camp in Maine each summer. Each one of those kids needs a sense of belonging, camp directors say, and going to camp provides it. For many of those campers, that attendance is made possible by financial aid and campership programs.
Several Maine nonprofit camps operate with a core mission of reaching out to underserved families. Take Camp Susan Curtis, located in Stoneham, which offers their program free of charge. The camp serves economically disadvantaged youngsters from Maine, all of whom are referred by schools or agencies.
"It's important to have the same opportunities as their peers," said Director Terri Mulks. "Camp is such an amazing place of stability for them, learning new skills, and being supported. Kids really need to be supported."
At camp, Mulks says, campers "get to be kids." While at home, these youngsters often have childcare responsibilities, or hold jobs to help contribute. "When they come to camp, they get to put that behind them – not always easily." It can take time for campers to realize they don't need to worry about home, and to simply relax and play, she said.
The Camp Susan Curtis experience is essential for youngsters, in large part to provide them with the chance to feel like "normal kids," Mulks said. "We need to get our kids to camp. We're jumping through hoops to make that happen."
Mulks says the pandemic has heightened challenges for her campers, including lack of internet to complete the camp registration process or being unable to visit their children's schools in person to meet with referring guidance counselors. But once at camp?
"They shine," Mulks said, adding that former campers regularly attribute their achievements – like attending college – to the ongoing support Camp Susan Curtis provided.
"One of the greatest rewards of my position is that I get to watch kids grow up and be who we always knew they would be," she said. "They find that in themselves, and they are really able to excel."
Agassiz Village, in Poland, also exclusively serves children from disadvantaged backgrounds. The camp has traditionally hosted campers from greater Boston but is shifting its focus to include more Maine youth. Campers pay an average of around $150 in tuition; fundraising bridges the gap between the cost to families and the $1500 price tag for a two-week camp session. Agassiz Village Executive Director Lisa Carter says that ultimately the camp seeks to achieve an even balance between Maine and Massachusetts campers.
"We know the need and are reaching out," she said. According to Director Ash Bahi, outreach has included Lewiston and Portland school districts as well as nonprofit agencies.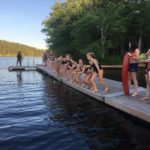 Agassiz Village, along with almost a dozen other Maine camps, is also an active participant in the Level Ground Initiative, a program of Maine Summer Camps (MSC). MSC is a nonprofit representing more than 150 member camps and it launched Level Ground in 2018 as a means of making camp available, tuition-free, to refugee and immigrant campers in Maine who would otherwise be unable to attend.
Participating Level Ground camps work with community partners to identify and enroll campers. Those partners have included King Middle School in Portland, Portland Community Squash, and Prosperity Maine. Although COVID-19 resulted in suspension of the program last summer, Portland Community Squash and King Middle School are currently collaborating with several partner camps to place campers for the 2021 season. Agassiz Village is a new camp partner and has set a goal of offering several dozen spaces for Maine kids.
Camp Bishopswood, in Hope, is another Level Ground partner and also has a separate robust campership program that ensures no children are denied enrollment due to families' inability to pay. The camp, operated by the Episcopal Diocese of Maine, is directed by Mike Douglass, who says the diocese steps up when scholarship funds are fully committed.
"I feel like Santa Claus a lot of the time because I know how much kids love camp, know how important it is, and know what it does for them."
Douglass says Camp Bishopswood's diversity is primarily economic. The camp will offer more than $75,000 in camperships this summer, including about $22,000 for Level Ground campers. The camp will also host 30 middle school students from SAD 53 for one week, paying two-thirds of tuition while the school district pays the remaining one-third. Douglass says he also has discretion to allocate about $40,000 in camper tuition funds.
The idea, he says, is to "level the playing field, making it so that any kid can come to camp."
The YMCA Camp of Maine has a similar philosophy, using a tiered tuition system to determine tuition costs. says Director Jeff Gleason. "We don't want to turn anyone away for an inability to pay," he said.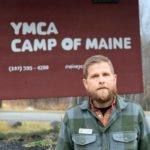 Simply bringing kids together, without technology, teaches campers conversation skills that allow them "to get to know people for who they are," Gleason said. "They all thrive from breaking bread, if you will," sharing meal and activity time, he said. The experience instills the idea, even in young campers, that: "'I can go to college, I can have a positive impact on other people's lives,'" thanks to mentors who take time to listen and get to know them.
Gleason says the camp works with several Maine nonprofits to identify and place campers. It also offers scholarships to children of active-duty military families, supported by specific fundraising that limits camper tuition to $100.
"The more diverse our community the better off we will be," he said.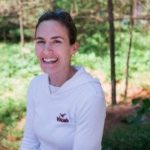 Laura Ordway, alongside her brother, Spencer, co-owns and directs Winona Camps, a private Bridgton boys' camp founded in 1908. She calls instilling a sense of belonging an "intrinsic mission" of camps – one that can't be achieved without breaking down barriers that might otherwise leave kids out.
At Winona, the commitment to extending support to families dates back decades. During his long tenure, Al Ordway (the Ordways' late father) established a relationship with an inner-city Atlanta church. In the early 80s, Laura says, boys traveled to Winona and became part of the camp community. The camp made sure each camper had his needs met – "without making a big deal" – and had a true Winona experience, becoming part of the camp culture that promoted a feeling of belonging.
Forty years later, providing those opportunities remains a core value of Winona Camps' mission, Laura says. Today, Winona brings campers from refugee families in Maine, Minnesota and Nebraska, areas where many refugee families have settled and where word of mouth has continued to connect the camp with families. The camp has also recently established a relationship with a nonprofit based in New Orleans. And right in their community, Winona Camps provides partial scholarships to numerous boys from western Maine.
"We just try to break down barriers that would prevent a child from being enrolled," Laura said. That may mean doing paperwork over the phone or relying on fellow camp families to support information-sharing. It may mean replacing outgrown sneakers and uniforms. It also means providing staff with "knowledge and skills to help them navigate issues about race," she said.
The result: that vital feeling of belonging. Friends. Confidence. Role Models. And social and emotional learning.
"For us, again, it just gets back to a sense of belonging and the confidence that comes with that," she said. "When you get down to it, you take a boy who might not have had experience in the woods, or with a canoe, or swimming, or living with someone other than a family member," she said. "You take that child and put him in a safe environment that feels like a lot of risks. But the risks are highly managed. You give them that, give them friendships, and new adults in their lives. People they can look to for support."
And when those boys return home, she says, parents tell us "[the boys] are walking three inches above the ground."
These are the life-changing opportunities that camps are striving to offer.
Camp offers mentors, role models and an environment for creating lifelong friendships and opportunities. And camp directors agree all children deserve these benefits. Each summer, they make it happen.