The Maine Seacoast Mission's EdGE Program: Teaching Skills and Resiliency to Kids in Washington County
Educational Opportunities Outside the Classroom
Across communities in Washington County, kids are getting the chance to develop skills, take positive risks, and learn resiliency. And for four weeks each summer, while they are outside their classrooms, they are building on those educational opportunities.
The program is called EdGE, and it is operated by the Maine Seacoast Mission, a Bar Harbor-based nonprofit organization founded more than a century ago. EdGE, or Ed Greaves Education, is named after Ed Greaves, an Addison resident and Mission trustee who advocated for education and leadership opportunities for Downeast youth. EdGE turns 15 this summer and in that decade -and-a-half has provided afterschool and summer programs, plus leadership training for kids throughout Downeast Maine. The program has a staff of 60, including nine full-time employees.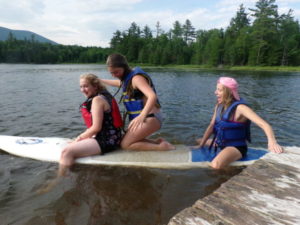 Charlie Harrington is director of EdGE, whose afterschool programs take place in six Washington County elementary schools: Milbridge, Cherryfield, Harrington, Addison, Jonesport-Beals, and Machias. The program is free of charge, and, during the four weeks of July, a $20 per week fee enables youngsters to attend EdGE day camp programs in Machias, Cherryfield, and Milbridge. Students are transported free of charge from the schools they attend, Harrington says.
Harrington says the summer program has a variety of goals. By offering participants choices – from cooking to robotics, arts to hiking, coastal exploration to sea kayaking – kids learn to brainstorm, take academic and personal risks, and develop resiliency.
"It's the skills to help kids move forward," Harrington says. "EdGE kids really want to sign up."
Some kids attend all four weeks, Harrington says. The Machias program, serving youngsters in kindergarten through eighth grade hosts as many as 90 kids per week, he says. The Cherryfield program serves children in grades three through eight, while students in kindergarten through grade two may attend in Milbridge. High school students participate as volunteers or assistant staff.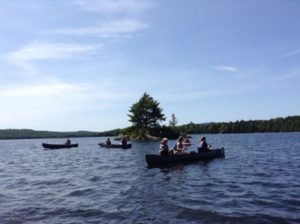 "Kids sign up for week-long courses," Harrington says. They learn math skills through cooking courses, develop team-building and positive risk-taking abilities on a ropes course, participate in athletics through a program called Sports of All Sorts. Middle school students from SAD 37 even have the chance to travel for five days on the Maine Seacoast Mission's 75-foot vessel, Sunbeam V, whose primary function is to serve islanders with telemedicine services and other healthcare offerings. EdGE's Sunbeam V program focuses on island living, hiking and coastal exploration.
The programs are all designed to teach youngsters skills to "be a productive person," Harrington says. That means learning to work together, to listen, to offer their opinions, he says.
Another goal is teaching kids to make "healthy decisions." ACEs, or Adverse Childhood Experiences, are events of which EdGE staff are always mindful, Harrington says. The incidence of drug addiction and other negative influences demand that the programs "serve up the resiliency stuff," Harrington says.
"Kids learn to bounce back," he says.
The summer programs are held in schools in Machias and Milbridge, and at the EdGE building in Cherryfield. They are staffed by EdGE personnel as well as by teachers from the area.
"We like what we do," Harrington says. "We think we have an impact on families."