Maine Camp Community Service Programs: Kids Paying it Forward
Traditional youth camps bring to mind summers of play, friendship, and the challenge of learning new skills. But at their very core, camps are communities. They teach kids to build connections, resolve conflicts, and share activities and living space. Increasingly, camps also offer the children they serve the chance to contribute hard work and commitment to service projects. From pitching in both within camp boundaries and beyond, many camps in Maine support their campers in using their energy and enthusiasm for the greater good. It's just another example of how camps across the state seek to teach youth lessons for a lifetime. This two-part blog takes a look at four youth camps in Maine and their efforts to share the value of community contributions.
Camp North Star, Poland
At Camp North Star, service learning is incorporated into the camp's leadership program, says owner and director Steven Bernstein.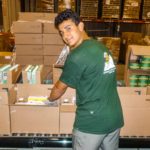 "We feel it's really important to teach kids the value of giving back to the local community," Bernstein says. And North Star campers hail from communities far and wide – from close to two dozen states and more than 20 countries. "We talk about what they're passionate about giving back to the community," he says.
During the 2019 season, leadership campers volunteered at the Good Shepherd Food Bank, pitched in at a local animal rescue organization, and also ran an afternoon activity at the Town of Poland's summer day camp, Bernstein says. "We bring in activities they wouldn't be able to do," he says.
At Good Shepherd, camp volunteers packaged 500 boxes of food for needy families, Bernstein says. "Our campers really enjoy it. They see the positive impact they're having on the people who are part of the organization and they understand helping someone in need."
And while they are volunteering, Bernstein says, they make a sacrifice, foregoing an activity at camp.
Campers' parents also appreciate the service opportunities offered to their children, he says. When parents share the news that their kids are volunteering back home, "that's the best news we can get."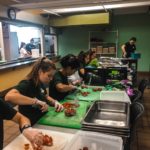 Bernstein says the community service efforts – established five summers ago – align with the camp's mission to teach "communication, collaboration, creativity and critical thinking."
"They use all those skills."
Camp North Star is also newly involved in the World of Change initiative, Bernstein says. The Maine organization was founded with the mission to convert $10 billion in pocket change to "good use." The change goes to programs with established partners working in areas of housing, food security, education, animals and nature, health and wellness, and children's play/discovery. "Everyone has a jar" of money at home, he says. The camp encouraged families to collect that change and bring it to camp, for donation to World of Change programs.
Camp Nashoba North, Raymond
At Camp Nashoba North, the two-week Summits Program offers a small group of high school students the chance to immerse themselves in a rigorous slate of service projects, including from Loon Echo trail management, Habitat for Humanity building work, and lending a hand at the Preble Street Resource Center. Camp owner and director Sarah Seaward says the 13 participants also work with Maine Island Trust removing invasive plants, pitch in at the Good Shepherd Food Bank, work locally at Mulberry Farm, and have collaborated with Partners in World Health. In addition, the teens spend a full day at Camp Sunshine in Casco, which offers free camp programs for children with life-threatening illnesses and their families.
"We're super blessed," says Seaward. "We don't have to travel far at all."
Pink Feathers, a nonprofit in Oxford that collects used clothes for students in need, is a new partner, she says. Summits participants sorted appropriate clothing from camp donations and lost and found which were then donated. Seaward said she and other year-round camp staff also plan a trip to Pink Feathers this off-season.
Summits participants live together at camp with a unit leader, and are guided by the Summits program director, who serves as a liaison and travels with the group each day. The program guarantees participants 30 hours of service work; good weather this past summer enabled them to perform a full 40 hours. And because the program takes place during the final two weeks of the summer season, most Summits participants hold jobs back home prior to arriving.
Seaward says the program is also committed to offering participants "down time" in order to reflect on their experiences. In addition, Summits participants eat their evening meal with the camp community, and take turns sharing insights about their experiences with campers.
One advantage of the program, Seaward says, is the chance to do projects that might differ from typical school-year volunteer initiatives. "It's out of the norm."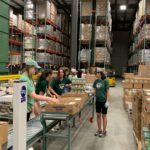 The program fosters leadership, team building, self-study and self-awareness, Seaward says. Participants learn nuances about group communications as well, she says, including the importance of having a voice in discussions and reflection.
"Our kids love it," Seaward says. "They wait all summer long."
Next week: Hidden Valley Camp, Alford Lake Camp