Leaving Technology Home: Campers' Adjustment to Being Unplugged
It happens all over Maine. Every summer, children arrive at youth camps throughout the state for a few weeks — or a full season — ready to undertake adventures, be with friends and role models, and learn or advance skills. And at most camps, kids' experiences are completely tech-free. Phones, laptops, iPads — they all go home with Mom or Dad.
Camp in Maine is unplugged.
But what about that transition? How do kids adjust when they've spent a school year connecting with each other via social media, when they text each other constantly, when phones are social lifelines?
They're relieved.
That's what Alex Jackson, director of girls' Camp Runoia in Belgrade, suggests. Jackson says the girls are prepared, and, for returning campers, adjusting to being tech-free can be "easy."
"They're kind of used to it," she says. And, "there's a sense of relief."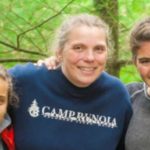 That's not to say there isn't a flurry of tech activity at drop-off and pick-up, she says. Jackson says in recent years there has been group-texting among girls as they drive to camp. Campers who have already arrived, and not yet relinquished their phones to parents, text cabin and counselor information to their friends en route. Usually girls don't learn this information until they arrive, Jackson says.
"It changes the initial arrival dynamic."
And as camp wraps up, Jackson says girls sometimes ask administrators to email messages home, reminders to their parents to bring their phones to pick-up. Going without technology at camp doesn't mean kids won't jump back on when it becomes available.
Another element that helps girls adjust to living tech-free is the camp's suggestion that parents help them "wean off" technology prior to camp. And there are reminders, Jackson says: "'Don't forget, no candy, leave the phone home.'"
After a long tenure as Director of Camp Chewonki in Wiscasset, Garth Altenburg is preparing for his first summer as director of boys' Camp Timanous in Raymond. Altenburg says that while his first-hand experience comes from Chewonki, Timanous seems closely aligned on matters of technology.
"Kids are really fine" going without, he says.
Much of that comes from the fact that camps offer "a world tailored to their interests," he says. "They love being there, love the opportunity to be free from [technology]."
Altenburg says an added benefit is that "the decision is made for them. It makes their life easier, and they are really okay with that."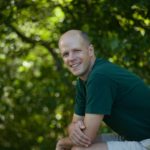 "It's not their parents saying 'you've got to get off your phone, you've got to spend more time outside,'' he says. "At camp it's a norm."
The transition may be a little harder for first-time campers, he says, but "once they get there, and see all the fun they get to have, they really don't miss is."
Children are "on their devices because it's the easiest way to connect with people," Altenburg says. "Camp makes it so easy and convenient for them to connect. It's all right there, and all tailored to making friends."
Matt Pines, director of Maine Teen Camp in Porter, also sings the benefits of camp being unplugged. Like his camp colleagues, he says the transition for campers is made easier by the presence of activities and the built-in perk of face-to-face connection.
"We send out reminders, memos to parents in the weeks and months leading up to camp," he says. Those reminders encourage parents to help their children adjust to a "camp sleep cycle," and to "wean off" technology if the child is a "heavy device/online media user."
That means putting down devices upon arrival at camp isn't entirely "cold turkey," Pines says.
Of course the camp's variety of activities offerings means "the deck is stacked in our favor," he adds. "There's a ton of stuff for them to do, a ton of other people around, and most critically, those other people don't have devices either."
"They're so busy playing games and signing up for activities," Pines says. Because they are so   busy, campers feel the absence of their devices far less. "It doesn't feel like a big gaping hole."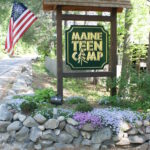 Pines acknowledges that kids going without tech can pose an occasional challenge. A camper last summer took his mother's iPad and brought it to camp on the bus from New York, for example. "He was pretty bummed out that he didn't have access to that device."
Pines says the camp's response was "'what can we provide you in those quiet moments, when you don't know what to do? We're glad to help you not feel anxiety'" about going without a device.
The tech to no-tech transition is also made easier by "tiring kids out," allowing them to burn physical energy, Pines says. Plus, when they are moving among activities, ranging from tennis, to an improvisation class, to cooking, to the beach with friends, they are having memorable moments, he says.
But adjusting to a new place, with new people, can makes teens anxious, Pines says. A phone in such cases seems like a "real default option." That's why immediate immersion with bunkmates and counselors in "get to know you games," and signing up for activities, is so important. The quicker and smoother the acclimation process, the less anxiety, he says.
Pines agrees that changing behavior around technology can be hard, but when kids find out what they might have missed out on by focusing solely on devices, being unplugged can be less challenging.
"One of the most compelling reasons for camp in 2019 is the chance to be in nature," he says.
Returning campers know the drill, camp directors say, so parting with their technology is part of stepping into the camp community each summer. And while it might be a bit of an adjustment for new campers, they too soon learn that being unplugged means more face-to-face conversation, more play, more discovery. Camp is a few months away. Campers are still in school, still using their devices to entertain themselves and their friends. But as Garth Altenburg says, come summer kids are just fine putting the tech down.
"They cherish the opportunity to be free from it."
Next week: Staff members and Technology Use, plus Encouraging Campers to Use Tech Differently