Keeping Camp Alive
So, your camper comes home on a high, talking about games and names and songs you've never heard of before. This is a new kid! A happy, silly, twigs in her hair, kid who wants to teach you about scat and astronomy. That elation lasts long enough for all the laundry to get done and put away, their favorite television shows binge-watched and best-loved home cooked meals enjoyed. Then you have on your hands what's known as the camp-sick sulker. And you still have a few weeks of summer to fill! What's a dedicated parent to do to keep everybody sane and happy before school begins? Take some tips from us and extend the camp lifestyle into your own.
A magic thing happens at camp. Kids grow outdoors, outside the classroom, away from the usual rules and structures. They feel a sense of independence. They break from "normal" life and see extraordinary sights they've never imagined. Coming home can cause mixed reactions. Of course they are happy to be with you, in their own rooms, with all their stuff (where did they get so much stuff?!). But they also are longing for friends they made and the routine they kept on camp time. It's only natural. It's the first time understanding that more than one world can exist within this one. There's no need to panic. We've got your sulky camper and you covered.
Have a sing-a-long night
Do you have a fire pit in the backyard? A place to cluster chairs in a circle? A few cushions and a flashlight? Even the kitchen will work in a pinch. They are the hearth of our homes, after all. At camp we have a rich tradition of getting together in a group at day's beginning and end. It's a chance to reflect and forecast plans. There are often songs to mark the occasion. Many of them extremely silly. Call and answer songs, goofy voice songs, songs that require you to remember and repeat impossible items in the correct order. Tell the family there are no phones allowed. Pop some corn or make sticky s'mores. Gather together, grab a guitar if you've got one, and throw your voices into the starry night.
Go for a walk in the woods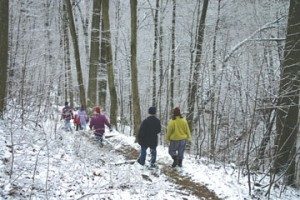 Maybe it's been awhile since you went out on the trails. You don't have to be… that guy who got stuck in the cave and had to cut off his own arm…what was his name? Put on sneakers, bug spray, sunblock, a hat, fill a bottle with water… you get the idea, and GO OUTSIDE! Your kids did it for weeks. Even the ones who thought bugs were icky and know more about hashtags than backpacks. They lived and loved the elements. Let them show you a thing or two about nature. They will love to see you sweat.
Camp to Table
We're talking a lot these days about farm to table cooking. Camps all over Maine are embracing this paradigm shift, by harvesting our own vegetables and teaching campers how to prepare local and seasonal ingredients into healthy, yummy dinners. If you have a garden, invite them in. Show your kids how to pick what's ripe, and how one perfect eggplant (or tomato or pepper) is the inspiration for a great family meal. If you don't have a backyard garden, take a trip to pick your own fruit. Then go home and bake a pie for dessert.
Being together is wonderful. Being together sharing an activity that can start a dialogue is brilliant. You will gain more insight into your kids' time away at camp and they will reveal things about themselves that will astound you and allow them to connect camp to home, unifying their two beloved worlds.