Junior Maine Guide Annual Testing Camp: Candidates Gather for Five-Day Encampment
Isaac, a 14-year old camper at Birch Rock Camp in Waterford, was hot. Clad in long pants, a Birch Rock t-shirt, and hiking boots, he was tackling the Junior Maine Guide wet-day fire test. A billet of wood had soaked in a dishpan of water for five minutes. Now Isaac faced the challenge of using an axe and knife to cut that wood, then burn it under a small can of soapy water that hung above the fire pit. The goal? Burn the wood and boil the water to overflowing in 20 minutes.
The sun had come out in Oquossoc, the site of the Junior Maine Guide Testing Camp, held last week. Isaac stood over his billet, positioned on the chopping block, and confidently swung his axe. He reduced the billet to small pieces, then pulled his knife from its sheath to create sticks.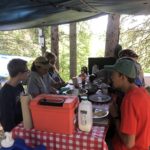 When he moved to the fire pit, arranged the sticks, and struck a match, Isaac's confidence seemed to grow. He kneeled next to the fire, blew into the small flame. As the smoke increased, Isaac blew his fire, then turned his head away from the fire and into fresh air. The flame increased, and Isaac continued to blow and then breathe.
As JMG examiner Caitlin Southwick looked on, Isaac watched his can of water overflow. Southwick announced the time: 16 minutes, 17 seconds. Isaac, a first-time JMG candidate, had passed the wet-day fire test with flying colors.
The test is one of nearly two dozen faced by Junior Maine Guide candidates – teens from youth camps across the state. Isaac's smile said it all: victory.
Since 1937, when the Maine State Legislature enacted the law creating the Junior Maine Guide program, thousands of teens across the state have devoted hours to summer study and practice of outdoor living skills. Each summer JMG candidates – enrolled at youth camps across Maine – learn a broad range of skills. Canoeing, tree identification, axe and knife use, map and compass, and fire and shelter-building skills are among the broad range of topics they tackle. Then, in July, candidates gather for a five-day testing camp, where they take major and minor tests in their quest for JMG certification. About 2700 youth candidates have achieved JMG certification in the program's 82-year history.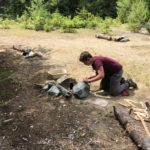 The 2019 JMG Testing Camp took place last week, at the Stephen Phillips Memorial Preserve on the Kennebago River in Oquossoc. The 55 JMG candidates represented nine different Maine youth camps across the state. Girls' camps Camp Arcadia, Camp Runoia, and Wyonegonic Camps, as well as Girl Scouts of Maine Camp Natarswi sent candidates, along with co-ed Bryant Pond 4-H Camp and Learning Center and boys' camps Birch Rock Camp, Camp Kawanhee, Camp O-AT-KA, and Winona Camps.
When they arrived in Oquossoc last Monday candidates and their counselors were greeted by JMG examiners, led by JMG Program Director Moose Curtis, whose tenure as program director exceeds 40 years. Candidates set up camp and began their five-day effort to become certified JMGs.
"It was a wonderful testing camp," Curtis said. "We keep telling the counselors they're the ones who set the tone."
"It was a good group of counselors," he said. "They were very willing to work and communicate."
Similarly, Curtis praised the 55 candidates.
And while "the results weren't terrific," Curtis said that may be attributable to the candidates' young ages. Many were just entering ninth grade, he said.
According to Curtis there was one third-year candidate and 16 second-year candidates. Of those 17 youngsters, 13 passed, he said. It was a little unusual for four second-year candidates not to pass, he said.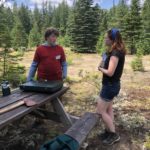 Curtis said that six of the 39 first-year candidates passed. "That was a little lower than usual, too," he said.
The more intense the preparation, the greater success, Curtis says. For example, all six of the Bryant Pond 4-H Camp candidates passed; among that six were four first-year candidates. Bryant Pond candidates prepare full-time, live together in an encampment and dedicate their camp time completely to JMG study.
"A lot of candidates aren't spending the time they need to," said Curtis. Part of that challenge is being immersed the vast array of activities camps offer.
"Candidates aren't getting the intense training they used to; there's more going on," Curtis said. For example, trips to practice and prepare for testing camp tend to be shorter and less frequent, he said.
Candidates heard a variety of speakers throughout the week. A Border Patrol officer described the work of taking turns on the Texas border, for example. A town of Rangeley police department representative spoke, as did a local game warden. In addition, Bill Green, a long-time outdoors journalist for WCSH in Portland, joined the group for dinner and a talk on the final evening of testing camp.
Green described his career trajectory, Curtis said, and told JMG candidates about the benefit of hard work and willingness to volunteer. "It was a great message about working his way up," he said.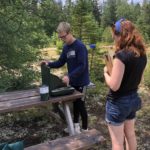 JMG preparation and testing has value beyond the hands-on outdoor living skills it teaches, said Anya O'Meara, a counselor from Camp Natarswi. "They're learning a lot; they can transfer skills to other parts of life," she said.
Liz, a fourteen-year-old Bryant Pond camper, was a first year JMG candidate. An aspiring ecologist, Liz began to learn outdoor living skills in a program at Oxford Hills High School and Roberts Farm in Norway.
Liz's fellow Bryant Pond camper, Laura, said she took hunter safety courses at Bryant Pond when she was "nine or 10."
"JMG is really incredible," Laura said. "It's really immersive."
Campers from Winona Camps, a boys' camp in Bridgton, also praised the program.
Tibo, in his third year at Winona, has lived in Belgium, Hong Kong, and now San Francisco. "Everyone is so nice," he said. "There's no competition."
"It's a lot more peaceful," said Lucas, 15, a Winona camper from Breckinridge, CO.
Testing camp is collegial and peaceful, notwithstanding, perhaps, candidates' anxiety about attaining certification. Youngsters at the 2019 JMG testing camp were surrounded by the support of counselors, the guidance and expertise of JMG examiners. Deep in the Maine woods, participants of the JMG program last week demonstrated their knowledge of the outdoors, their care for the environment, and their commitment to building community.