Day Camp: Serving a Vital Role for Kids – and Families
"I like to think of camps as so much more than childcare."
Helen L. Bren᷉a, president and CEO of the YMCA of Southern Maine, affirms the critical importance of day camp for working families. Yet Bren᷉a says the five different day camps operated by the YMCA of Southern Maine offer programs where children "are not just being babysat."
Rather, she says, "They're our future leaders. [Camp] helps them to set out on a good path to be our future leaders."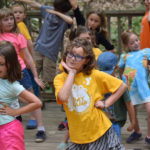 "We do that at all five of our camps," she said. "We're proud of the impact we have."
That pride extends to the Y's commitment to providing financial assistance for camp tuition to families in needs. More than half of families receive tuition assistance, Bren᷉a says.
The YMCA of Southern Maine day camps take place at all its branches: Greater Portland (Portland) Northern York County (Biddeford); Pineland (New Gloucester); and Casco Bay (Freeport). In addition, the organization offers Otter Pond Outdoor Adventure Camp, based at the Y's property located in Standish.
Like the YMCA of Southern Maine, other day camps in Maine are also ready to welcome youngsters this summer, all in keeping with pandemic guidelines outlined by Maine's Department of Economic and Community Development, just updated in late March. And if those guidelines should change prior to the summer, the organization is "working hard to get ready to pivot," Bren᷉a said.
"We're ready to respond when and if they change," she said. "We know families don't just want camp; they need camp for their kids who have been stuck inside in front of computers. Being able to be at any one of our camps is really helpful to them."
Liza Stratton directs the Otter Pond Outdoor Adventure Camp. She is enthusiastic about the summer season.
"I think that for me any opportunity to get kids and counselors out to camp is exactly I'm excited for," she said. Campers will participate in the same activities, and develop the same skills, as they would any other summer.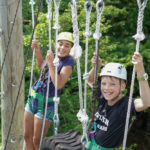 Stratton, who says she wanted to become a camp director from her first experiences as a four-year-old Y day camper decades ago, says the pandemic doesn't interfere with her goals of providing for kids and staff, creating a welcoming community, and helping that community "have the time of their lives."
At the same time, the camp will enforce strict health and safety protocols, including enhanced sanitation measures, regular wellness checks, mask-wearing, and operating smaller groups and at an overall lower capacity, Stratton said. In addition, the YMCA of Southern Maine does not plan to offer bus transportation to and from the Otter Pond's Standish location, to minimize close contact among campers from different households.
Like many day camps, Otter Pond will still offer the elements that make camp so enjoyable and so different from the day-to-day routines that children are used to, Stratton said. "We get dirty, we catch frogs, we hike," she said. Campers also benefit from meeting other kids, which is particularly valuable given the isolation many youngsters have faced in the past year.
At the Auburn-Lewiston YMCA in Auburn, plans are also underway for a summer of helping kids making new friends at the 95-acre Outdoor Learning and Education Center in Auburn. The camp began operations at the location just three years ago, says Director Jaime O'Connor, and COVID-19 prevented onsite programming last summer. Nonetheless, O'Connor says improvements at the site have continued, and kids from the area will once again be able to return to play sports, including archery, learn outdoor living skills, and participate in arts and crafts. In addition, completion of an above-ground pool will allow aquatics instruction in the upcoming season.
Like Otter Pond, OLEC will have onsite drop-off and pick-up. And if it rains, O'Connor says, "kids will bring their rain gear." If there is thunder and/or lightning, she says campers and staff will be bussed back to the Y facility in Auburn.
O'Connor, like Bren᷉a, acknowledges that her program is a vital source of childcare. But O'Connor says her background in residential camp contributes to her view that "day camp is camp."
"It's an opportunity to learn new things, be outside, and make new friends," she said. And because the city of Auburn has six different elementary schools, campers have the chance to meet students who will become classmates in the future.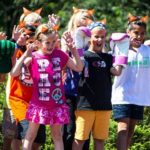 Meeting children from other schools is also an opportunity at Mount Desert Island's Camp Beech Cliff, says Director Matt Cornish.
"This is one of the places where kids on this island get to meet and interact with kids from other schools, before they get together in high school," he said. In addition, Cornish said that the camp at times serves as a "crossroad of the world," where the mostly local campers meet children whose families come from across the globe to vacation in the area.
And because of an anticipated increase in tourism, with more businesses open, more MDI parents will "look for a place where kids can be safe and have fun while they are working, doing their jobs," he said.
Like other day camps, Camp Beech Cliff will not operate at full capacity this season, primarily because of the need to be socially distant while sheltering during inclement weather.
Every activity will be in the outdoors, he said, even in program cabins, which are built to be open-air pavilions. "It will still be an open-air space. The air exchange is good."
Cornish said the decision not to open the camp last summer was "heartbreaking." As he looks ahead to the upcoming season, he calls the chance to rejoin campers in a community "an amazing opportunity and great honor."
"That has me more excited than anything else," he said.
Cornish says he has taken full advantage of organizations like Maine Summer Camps (a Portland nonprofit representing more than 150 member camps), as well as the national American Camp Association and the Maine Center for Disease Control.
"I feel very comfortable about the protocols," he said. He also acknowledges that there are many "downs that have come from the last year, none to be downplayed."
"I think we ignore the positives at our peril," he said. "We've been forced to get more creative, to look at things through new lenses."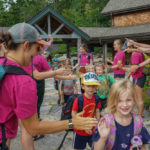 "It's helped us to highlight the priorities we have," said Cornish.
Another benefit of day camp is its ability to offer a camping experience for children who aren't ready to attend a residential camp, where children also try new experiences and take risks in a safe environment, Cornish says.
"Any kid can try it, even if they're not ready to be away from home."
Tom Doherty, executive director of Ketcha Outdoors in Scarborough, agrees. The organization offers extensive day camp programming each summer, which can serve as a "wonderful gateway to camping."
"It's a wonderful way to step out into the world," Doherty said. And when campers decide to enroll in a residential camp, "that's great," he said.
"Our job is to grow kids," he said.
And as the camp helps to grow those kids, campers experience "organized joy," Doherty said.
The camp is already fully enrolled, with a waiting list in each program, partly because of capacity limits necessitated by safe "storm space" in which indoor gatherings meet COVID protocols. But most of the camp's programming – they have eliminated the horseback riding program – will take place. Campers will engage in "farm-oriented stuff," such as playing with the chickens and goats, as well as hiking, the ropes course, arts and crafts, swimming, and other traditional camp activities. Doherty said the camp will also try to provide some lunches through the school lunch program, which "will help with some economic hardships."
All the while, kids can "lose themselves in play," he said.
Some day camps, like Ketcha Outdoors, are currently fully enrolled with waiting lists. Camp professionals say families should seek out available day camp programs and register their children as soon as possible.
"There's a saying that we treat each child as a 'bundle of magnificence,'" said Helen L. Bren᷉a, of the YMCA of Southern Maine. "Camp is camp, but it's also about the Y values of celebrating and welcoming all," she said. "Our job is to help them discover their potential and help them on their way to reach their potential."
.