Connecting Year-Round: Although Summer Ends, Camp Communities Thrive
Throughout its more than 120-year history, Sebago's Camp O-AT-KA has brought boys from around the world together for a traditional residential camp experience. Like scores of Maine camps, Camp O-AT-KA focuses on simple living in Maine's outdoors, teaching and honing skills, and helping campers to develop friendships, benefit from role models, and follow camp traditions designed to guide boys on their journey to adulthood.
Camp O-AT-KA has its own set of unique traditions, as do many, many camps across Maine. And like many of those camps, Camp O-AT-KA concludes each summer session with a candlelight ceremony. Campers take those candles home and, so the tradition goes, light them on Christmas Eve. The idea, says Camp O-AT-KA Executive Director Heather Plati, is to "collectively think about O-AT-KA for one brief moment and give thanks to campers around the world."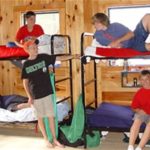 Camp means community. It means connection. It means learning and growth and friendship. And for camp directors whose role it is to foster and ensure those values, staying in touch with their campers — and promoting traditions like Camp O-AT-KA's — is key part of their work.
Plati, who took the helm of O-AT-KA in 2015, says ongoing communication with campers is integral to her role and integral to the camp's mission. For example, the annual Oak Leaves yearbook is a means of saying "we're thankful for you."
Boys "leave camp, get back to their busy lives," Plati says. The Oak Leaves is "a nice reminder to just think back and think good thoughts about camp."
In these times of increasing online communication, and reliance on social media for connection, Plati says mail — tangible, United States Postal Service mail — remains vital. "It's so nice to get something physical," she says.
In addition to receiving the Oak Leaves, therefore, each camper and staff member is sent a handwritten birthday card, she says. And although prospective families may turn to the camp's website for much of their information, Plati says they also receive a physical information packet.
Ongoing communication "builds the friendships and the relationships," Plati says. "We're letting people know, we don't think of you as just a seasonal transaction. You're part of a family."
Camp O-AT-KA's newsletter, The Lion's Roar, also reaches campers and staff three times a year. "We're trying to make it more personal," Plati says. The report includes a fundraising message, yes, but the camp strives to make the newsletter feel more like a "personal piece" rather than an annual report, she says. The goal is to help readers "really understand the personality of O-AT-KA, not just the operations."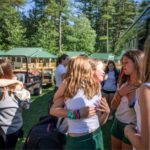 Camp O-AT-KA is just one example of scores of youth camps across the state, all of whose leaders know the value of nurturing campers' development through teaching, collaborating, and communicating in a camp setting. Similarly, camp leaders know they are part of a bigger picture in their campers' lives.
Maine camps almost universally depend on ongoing in-person gatherings with campers, staff, and prospective members of the camp community to help continue and create connections.
Catriona Sangster, along with her husband Andy, owns and directs girls Camp Wawenock in Raymond. The Sangsters, plus Assistant Director Kristy Andrews, spearhead ongoing face-to-face connection with campers throughout the year. Gatherings held at the home of camp alumnae or current families "work great for us," Sangster says.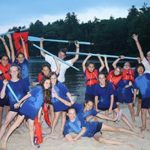 "Current families are real advocates for camp," she says. Kids can play games in one room while "parents who know camp introduce themselves" to prospective camp parents.
"It's a nice way to connect," she says. The gatherings serve as a recruitment tool, and "it works for returning families. It helps them reflect on the experience."
But in-person gatherings are just part of the ongoing effort to continue connection. Like Plati, Sangster says "snail mail" also plays an essential role.
"We do fun mailings for kids," she says. This fall, for example, campers and staff received postcards, the fronts of which were comprised of Wawenock-specific stickers. It's an idea Sangster says she got from another Maine camp. Campers received the postcard upon re-enrollment, she says. "Once that was finished, we sent it to all the other kids to say, 'we hope you're coming back.'"
While mail is part of the marketing process, it's also about community.
"We just hope it's making a difference," Sangster says.
Sangster says the camps connects with staff members as well. At Halloween, Wawenock staff members received a card and accompanying glow stick, Sangster says. "We don't write anything about summer," she says. "They're totally just fun mailings." Staff members also receive a Valentine's Day treat, she says. Last year that included a Starbucks gift card. It's an expense, she says, "but if it's encouraging connection and fosters feelings for camp . . . "
In addition, the Sangsters and Andrews produce a themed calendar each year, comprised of photographs plus a directors' letter and testimonials from campers and staff. They design the calendar themselves and distribute it to the full camp community.
Communicating with that camp community is "always a work in progress," Catriona Sangster says. But regardless of the constantly changing landscape of social media, "[social media] will never replace stuff that goes in the mail."
Andy Lilienthal, who owns and directs Camp Winnebago, a boys' camp in Fayette, says he also sends birthday cards. In addition, Lilienthal says, ongoing social media posts, plus a monthly blog, complement in-person reunions held throughout the country during the off-season. Occasional newsletters also keep families informed and connected.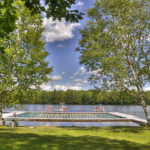 Fernwood Cove, a girls' camp in Harrison, holds reunions as well, and also relies on a twice-yearly newsletter to help reach out to its community. Entitled the "Mooseletter," this publication promotes events and also uses the opportunity to celebrate new initiatives — such as the camp's focus this past summer on using water bottles as a means of reducing plastic waste. The November newsletter also dedicated a page to describe in detail its designation this year of the value of "simple living," one of Fernwood Cove's eight values. Like other camps' newsletters, the Mooseletter offers campers, families, and staff the chance to think not only about camp relationships (including a link to the past season's photos) but also continue to commit to camp values and opportunities for growth.
Camps are businesses, no doubt; their directors and owners must continually focus on camper and staff recruitment and retention. But camps are also mission-driven organizations promoting children and staff members' growth and development, and the creation of relationships that extend far beyond camp boundaries. Reminding their communities of traditions and values, and keeping the joy and exuberance of the camp experience fresh in the minds of those community members, helps camps strive to achieve their true missions. Staying connected is essential.
And, as Heather Plati says, the importance of those connections transcends camp environments. "The world is a circus right now," she says. "People need one another. We all do."