Camps Rise to the Challenge of Addressing Food Allergies and Intolerances
Above all, camps directors want kids to have positive experiences: friendships, abundant activities, and – in the case of residential camps – cabin life, all factor into how much campers enjoy themselves. But an additional and crucial element of the camp experience is the food. And for a subset of campers, those with food allergies, intolerances, or other dietary restrictions, eating at camp can be more complicated. Fortunately, camps across Maine are welcoming the opportunity to meet those campers' dietary needs – and in some cases changing a summer camp experience from a wish to a reality.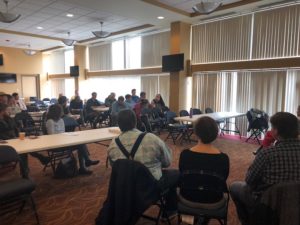 In a conference room at the Cross Insurance Arena in Portland last Wednesday – while vendors displayed their wares at the annual Sysco food show – a group of camp professionals gathered to discuss some of the issues presented by feeding campers with dietary restrictions. The panel discussion was organized by the Education Committee of Maine Summer Camps, a non-profit membership organization serving more than 120 Maine camps.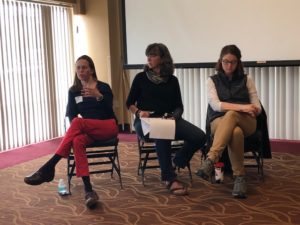 Laura Jo Cunningham, assistant director of Kingsley Pines Camp in Raymond, spearheaded the gathering, the idea for which came from discussions at the Maine Summer Camps fall membership meeting last fall.
              "I think what's gotten hard is that food allergies have become a very significant issue," Cunningham said following the meeting. "There are more vegans and vegetarians. All those preferences are putting different demands on camp."
              Yet insights shared at Wednesday's meeting made clear an overriding fact, she said: by making accommodations for campers, those campers benefit from a safe recreational opportunity.
              Cunningham says that in holding the workshop, the committee had several goals.
              "I really wanted people to hear that you need to talk to parents and kids to understand [allergic] reactions and how different reactions can be," she said. Camps must also be mindful that reactions can change as a child ages, she said.
              Paige Rich, program director at Alford Lake Camp in Hope, served as a panelist in her role as a camp professional and as a parent of a child with a food allergy. Her son attends camp, and her insights "puts the face of a real parent who has dealt with this," Cunningham said.
               In the panel discussion, Rich pointed out the necessity of camps' communicating with both parents and campers about allergies and necessary accommodations. At Alford Lake, Rich says that leadership and nursing staff reach out to families prior to camp. It is also essential that the camp's chef meets the camper, she says. Gathering information such as whether the camper knows the symptoms of a reaction, and how such a reaction feels, is also essential, she says.
              By taking such measures, parents of campers will be reassured that the camp "really cares" about the child, Rich said.
              In addition to Rich and Cunningham, the panel included: Mary Boyle, director of Girl Scouts of Maine Camp Pondicherry and a licensed EMT; Ian Root, food services director at Kingsley Pines Camp; Linda Manchester, owner of the Good Life Market in Raymond; and Keith Pacheco, chef at Fernwood Cove, a girls' camp in Harrison.
              "I wanted people to hear some plans that have worked for them," said Cunningham.
              Many Maine camps have eliminated peanuts and tree nuts altogether, and a majority of the camp personnel in attendance indicated that their camps offer gluten-free, vegetarian, and vegan offerings.
              Pacheco, of Fernwood Cove, said kitchen staff must have information about campers' dietary restrictions, including whether the restriction is "an intolerance or a preference." At Fernwood Cove, he said, kitchen staff are thoroughly trained, and the kitchen is set up with "designated stations," including labeled trolley carts – such as a gluten-free cart. In addition, kitchen staff use color-coded utensils and separate cutting boards to ensure against cross-contamination. Fernwood Cove also utilizes a separate freezer to hold only gluten-free foods, said director Beigette Gill. Camp directors also said well-trained kitchen staff are keyed into ingredient identification.
              In the event a camper does have an allergic reaction, panelists agreed that proper training in administration of an Epi-Pen is essential, including the necessity of being mindful of how long it may take an ambulance to arrive, said Boyle.  This will help ensure that a camper doesn't suffer a full anaphylactic reaction after the benefits of the Epi-Pen have lapsed.
              Another key piece to addressing the issue of allergies and intolerances is maintaining simplicity, said Ian Root of Kingsley Pines. "Kids with real allergies don't want anything special," he said. "Keep it as low-key as you can for your simplicity and their piece of mind." Campers also benefit from camps having a "point person" with whom they can discuss their dietary needs, camp personnel agreed.  
              "We want to sit down and enjoy our meals safely," said Cunningham. "It's a lot that's happened fast, and sometimes it's overwhelming, but I think everybody's trying really hard because we want these kids to come to camp."
              "It's a gift to kids and parents that kids can be and have a blast at camp," said Rich. "We're doing this to keep kids safe. We're reaching out to parents who are living it day in and day out."