Camp POSTCARD: Giving Kids a Camp Experience and a New Look at Law Enforcement
Every summer since 1994, law enforcement officers from around the state have exchanged their uniforms for shorts and t-shirts to spend a week in an unlikely role: camp counselors.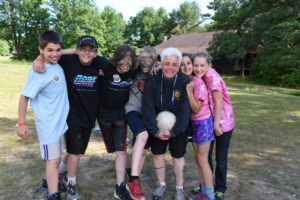 Camp POSTCARD (Police Officers Striving To Create and Reinforce Dreams) was founded in a joint effort of the Maine Sheriffs Association, the Maine DARE Officers Association, and Volunteers of America Northern New England.  Its mission? To give 5th and 6th grade boys and girls in Maine a week of fun, a break from stressors, and a chance to see law enforcement in a different light.  The camp, offered free of charge, is entering its 24th summer, and will bring together more than 75 law enforcement officers and volunteers to host about 150 boys and girls for a week in June at Agassiz Village in Poland.
Campers, who come from all 16 of Maine's counties, are referred by teachers, guidance counselors and school resource officers, says Volunteers of America Northern New England Vice President of External Relations Michael Coon. Referrals are made for a variety of reasons, he says. Some campers have experienced a loss or trauma, or have an incarcerated parent. Others may have attention deficit or other behavioral issues that make traditional camp a challenging fit. Others simply can't afford to attend camp. Or perhaps a youngster has made significant strides at school and is being rewarded. But regardless of the reasons they are referred, the campers come together to swim, play sports, do arts and crafts, all under the mentorship of volunteers who want to make a difference in dozens of kids' lives.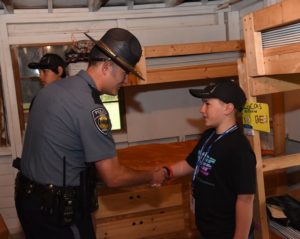 Those volunteers may be police officers at both the local and state level. They may be first responders. A cadre of VOA volunteers helps out, too.  Coon says each group of campers, a mix of boys and girls, is guided by a pair of officers, male and female.  Such partnerships of leaders allow kids "to see positive interactions between men and women," Coon says, which might be unfamiliar to some campers.
"Our goal is to give kids a better understanding of police officers in their world," Coon says. "They get to know them as real people, and they can be ambassadors when they go back into their communities."
"They tell their friends, 'I hung out with a police officer.' It makes positive role models of police officers," he says.
That modeling takes place in the context of having fun. Coon says campers are offered a variety of traditional camp activities, plus some extras. The camp brings in a portable climbing wall. The Maine Warden Service lands a plane on the lake. Police canines pay a visit. And law enforcement and first responders bring their vehicles for kids to climb in and around, including an armored truck and a bomb robot truck.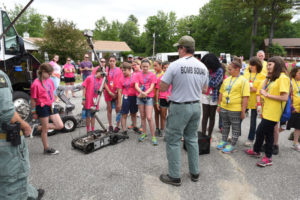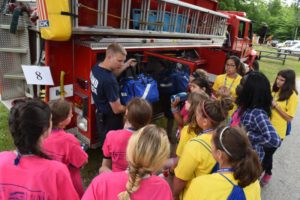 "Kids get to spend time at each vehicle, and talk to the people that work in them," Coon says, "so when they see them in the community it's not a scary thing."
Coon says that VOA staff members are enthusiastic about participating in the camp, and volunteer cooking crews prepare all the meals. "We use it as team-building experience," he says.
VOA fundraising fully supports the camp, Coon says. Although the VOA rents the space from Agassiz Village, in-kind donations of food and other necessities help supplement the financial contributions that make the camp possible, Coon says. Sponsors include Olympia Sports and New Balance, he says.
If a child arrives at camp ill-prepared, he or she is given what she needs to have a successful week, Coon says. That may mean a new sleeping bag, or a new pair of sneakers that is the proper size. "We are very conscious that a lot of these kids only get hand-me-downs. We make sure it's brand-new stuff."
"Sometimes it's the first new stuff they've ever gotten," Coon says.
Coon says that a highlight of the week comes near the end, when the camp leaders who have bonded with the kids step away and change back into their uniforms, then process into the dining hall.
"It's the most moving experience," he says. "That's where those kids get to make that connection. They say, 'That's the person I hung out with this week.'"
Coon says that since VOANNE began the program in 1994, VOA organizations in Montana, Wyoming, Colorado, and New York have initiated similar camp programs.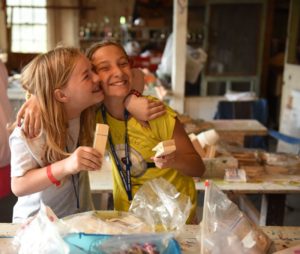 Maine boasts nearly 200 camps and attracts kids from around the world each summer. But some of Maine's own children, for reasons largely outside their control, are the ones who can benefit most from a camp experience.  For more than two decades, Camp POSTCARD has stepped in to help meet that need. Firefighters, state troopers, and local police and sheriffs from all over Maine, together with VOANNE, are giving deserving boys and girls a new look at law enforcement, a chance to play and relax in nature, and a week of interaction with role models whose influence can extend far beyond a week at camp.
All photos courtesy of Camp Postcard