Camp Ketcha: Recognizing Challenges, Prioritizing Mission
Summer has a vastly different look, across Maine and the nation. But for some youngsters, the chance to socialize, play, and learn with peers – amidst the pandemic – became a reality. Camp life may be modified, but at Camp Ketcha, executive director Tom Doherty says the decisions to open their doors is giving youngsters and their families an enormous boost.
A day camp in Scarborough, Camp Ketcha typically has upwards of 330 children enjoying a vast array of activities each day on its 107-acre campus. This summer, the camp is hosting only a fraction of that number – currently 64 campers – in order to best ensure children's health and safety in compliance with CDC coronavirus recommendations. Doherty says that while current camp operations present financial challenges, what matters more is fulfilling Camp Ketcha's mission.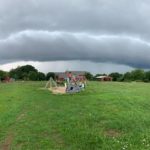 "We really took the idea that this is a community-based, charitable nonprofit," Doherty says.
In hosting youngsters, Camp Ketcha is supporting their working parents. Doherty says that 75 percent of the families it serves include essential workers, including medical professionals who helped guide the camp in creating its modified program.
"They were saying, 'we know the risks, we still think camp should open, as long as you do it smartly,'" he says.
Camp Ketcha's pandemic protective measures are expansive. In addition to dramatically reducing its camper numbers, the camp has placed children in groups of eight, which include two staff members. Ages within those groups range from four to 12, in large part because siblings are placed together, Doherty says. These groups move independently, and distanced, from each other.
In addition, he says, drop-off spots have been "parceled out" around camp, where each morning staff members ask screening questions and check children's temperatures.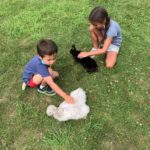 Once the camp day is underway, extended activity periods accommodate time for cleaning and handwashing, and "reduce hectic-ness," Doherty says. Just two groups at a time use the pool, in different ends, and campers were issued their own arts and crafts supplies when the season began. Children bring their lunches, and the camp has suspended the well-loved "pizza lunch," typically offered weekly.
In addition, the camp built two yurts to help enhance safe indoor "storm space."
"It does have a different feel," says Doherty. Being "cooped up" for the past several months means some children may lack stamina, he says. In addition, there have been some "big, big feelings" that staff are helping youngsters to manage.
And because children are in the same groups every day – and will be throughout the summer – they "have to figure out how to get along," he says. Attention to group dynamics, always a camp leadership priority, is even more vital.
The entire operation demands trust, Doherty says. Staff members are entrusted to minimize their exposure outside camp, and "we also put stuff out to parents" addressing similar essential trust.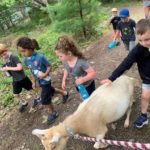 And while the ropes course may be closed – "you can't really clean 30 feet up from the top of a vertical playpen" – Doherty says campers have other unique opportunities. For example, with only dozens of campers, as opposed to several hundred, campers get to "lead goats around camp" in their nature walks, and experience a more quiet immersion into their environment.
"It feels comfortable," Doherty says. "Everyone is at ease."
Still, Doherty is committed to remaining vigilant. Growing accustomed to daily protocols still demands "attention to all the details," he says. It is essential "not to take the eye off the ball." In the coming weeks, Camp Ketcha may add two additional groups of eight, Doherty says, but that will be the limit of its summer enrollment.
In addition, although camp is underway, Camp Ketcha now faces the question of "what does the community need in the fall?" Doherty says. The organization typically hosts 50 youngsters in its afterschool program, as well as 30 preschoolers. Continuing to carry out its mission – to serve children, families, and the community – will be on the planning forefront, he says.
Today, on its sprawling campus in Scarborough, Camp Ketcha is living its mission. Dozens of children are learning and playing together, safely, while their parents can perform essential work in the community. Certainly, the organization has undertaken a financial challenge – as have all camps operating across the state this summer. Yet Camp Ketcha's commitment to families and community may have never been so valuable.