Camp CenterStage: Celebrating its Second Season at Livermore's Maple Lane with Gratitude and "A Lot of Time to Walk Barefoot in the Grass."
In the summer of 2019, Camp CenterStage embarked on a new adventure in its arts and leadership youth camping program. Camp owners Steven and Alexis Dascoulias opened the camp's doors on property they could call their own. After almost a decade of renting boys' Camp Agawam – holding camp after Agawam's summer season ended – the couple opened CCS in Livermore, after purchasing former nine-hole golf course, Maple Lane, in 2018.
Little did the Dascouliases know that months after their first Maple Lane season, Covid-19 would turn the youth camping industry upside down. Committed to their campers' health and safety – and their young investment – Alexis Dascoulias says they did some soul searching and number crunching. Then they opened camp for a modified summer 2020 season.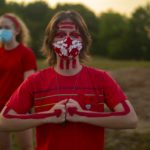 "Our opening night campfire was full of sharing and conversations about how thankful they are to be here, in nature, not in front of a screen all day or 'locked' in their homes," Alexis wrote in a recent email.
And while campers present differently, she says – are more "delicate" emotionally and less physically fit – there is a spirit of support and caring and kindness. "It is different for sure, but camp is camp, no matter where or when," Alexis says. Through email and a phone conversation, she shared the full range of how CCS is prioritizing health, safety, and community in this unprecedented camp season.
For camps across Maine, the decision whether to open this summer was wrenching. Camp owners and directors faced the challenges of meeting state and CDC coronavirus guidelines while offering their unique programs, all the while keeping staff and camper safety their top priority. Most Maine youth camps suspended their seasons. About two dozen, like CCS, made broad modifications, implemented rigorous and ongoing screening practices, and jumped in.
"When the guidelines came out, we thought 'We can do this. We can still have camp and provide a really great experience,'" Alexis says.
At CCS, campers and staff follow what are known as the "Five G's." Gentle, gratitude, go slow, grounded, and, in a nod to Covid-19, "Ga-Ga," the camp's moniker for their robust sanitizing process.
"When we finish a meal, we say 'Ga-Ga and Go-Go,'" she says. "We have signs that say, 'Keep the Ga-Ga Going,' meaning if that sign is on a table or space, it has been sanitized and you cannot set anything on it." Campers have their own supply bins, and arts items requiring cleaning go into a receptacle labeled "needs to be Ga-Ga'd."
In addition to those essential Five G's, CCS's community has embarked on shortened program lengths, paring down two three-week sessions to two 17-day offerings. Cabin sizes are reduced from 10 to six, and campers travel in two-cabin groups – appropriately called "casts" – throughout the day. The donation of 13 picnic tables has made outdoor meals the norm, although Alexis says the dining hall can safely accommodate the entire camp population. Bathroom facilities have specific cabin designations.
Much of the decision to open hinged on staff availability and comfort level, Alexis says. Staff members were required to quarantine on site for two weeks prior to the camp's opening; all are previous CCS counselors or campers. In addition, counselors have a median age of around 23, she says.  "It was hard. We want to be safe. We are being safe."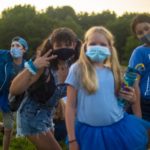 Equally vital, of course, were decisions around programming. CCS is offering its full range of performing arts activities, from acting to filmmaking, musical theater to dance. Because the "cast" groups move together throughout the day, campers are exchanging a bit less choice for more arts exposure, Alexis says. The practical reality of health and safety guidelines means campers cannot focus on a specific discipline, as they have in previous summers.
CCS is as much about nurturing leaders as performers, Alexis says. "If your aspiration is to be a Broadway star, it's not the right camp," she says. "If your aspiration is to be a good citizen and build character" and explore and develop skills, CCS may be a match.
"Campers are having a blast," Alexis says. "They are really enjoying sitting and talking and expressing and processing. Sitting on the grass and just being."
Campers, while playing and creating, are also anxious about "what they are going back to after camp," she shared via email. "There's a lot of talk about school and what that will look like. We are taking a lot of time to be outside and walk barefoot in the grass."
The Dascouliases are mindful that staff members faced adjustments as well. After all, staff members are on site for the duration of the camp season. Days off include hanging out in a communal space-turned "coffee shop" rather than leaving for adventures off-site.
Awareness of staff members' needs was a key to pre-camp training success, Alexis says. During weekly Zoom meetings, prior to arrival, staff members each requested a favorite meal for Alexis' husband, Steven – co-owner and camp chef – to prepare during their 14-day quarantine.
And the first week of staff members' stay "was more about them, taking care of their mental health," to best position them to focus on campers, she says.
Every camp is about building community. And while many Maine camp directors who suspended the 2020 season are nurturing those connections virtually, Camp CenterStage, along with about 20 additional camps statewide, has welcomed campers to enjoy their artistic pursuits and be among friends and mentors.
"It's artistic-based, for sure," she says. But in many cases, campers' experiences are "less about talent and more about your heart."
Appreciation for all camp can offer – and consistent focus on safety and health – are every camps' top priority. At Camp CenterStage, just a few dozen youngsters are singing (outside and distanced), dancing, acting, and creating. They are together, connecting safely, and the entire CCS community, above all, is grateful.