Camp Bishopswood: A Unique Summer of Connection  
Like scores of Maine youth camp organizations, leaders of Camp Bishopswood in Hope weighed the coronavirus pandemic's potential impact this summer and chose to suspend its season. But the coed camp, part of the Episcopal Diocese of Maine, was far from idle. With a crew of fewer than 20 staff members living, working, and embedded onsite, Bishopswood's operations were undoubtedly different. The camp's spirit, however, was as robust as ever.
Kathryn Abel, 20, and Olivia McLean, 20, are both Maine residents with years of experience at the camp. And both say that their choice to go Bishopswood this summer, in part to provide virtual connections to youngsters near and far, was never in doubt.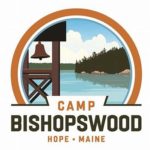 Abel, who goes by the nickname "Kabel," lives in Cumberland and studies event management and entrepreneurship at High Point University in North Carolina.
"For me, I love camp. I feel really grounded here," she said. "Basically, the connection is super important to us."
McLean, a student in the six-year physician's assistant program at Springfield College in Massachusetts, says she also recognized that campers might be struggling this summer. "Kids go through a lot. We realized this summer would be hard for them, just like us."
"We can still bring them connection to their safe place," she said.
And that is exactly what they did.
For the month of July, the small staff coordinated online activities, video livestreams, even a podcast entitled "Good Morning, Bishopswood," all intended to reach out to campers in their homes.
"I know how sad I'd have been," not to return to camp, McLean said. "It's rewarding to know we are making summers a little more normal."
Family and camper feedback was immediate, the women say. Emails and Instagram messages conveyed gratitude, of course, but they also received statements like, "We love you so much," and "this is all what I needed."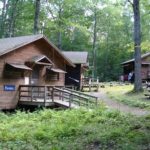 Campers have continued to receive handwritten birthday greetings as well. Two parents, whose son received a postcard in July signed by his 2019 counselors, wrote camp Executive Director Mike Douglass expressing their appreciation: "With everything so crazy, it means so much for those counselors to reach out. It truly brought tears to my eyes when I realized what I was reading." The parents also praised the camp for its regular online posts, and closed by writing, "Thanks so much for caring about our kids."
Abel and McLean know how that care feels. Both served as cabin counselors in 2017 and 2018 and have spent many summers as campers. "This has definitely been a different summer," Abel said of their "bubble." And, McLean added "it's been a super fun dynamic" to work with good friends from previous seasons.
While virtual connections have helped sustain campers, the two said, the opportunity to live in community at the camp helped sustain them as well.
After two weeks of quarantine onsite, the group was able to "hang out as we normally would," said McLean. "We've done a lot of sitting on the dock, canoeing, and kayaking," she said.
Both acknowledge that the virus's impact, and the isolation of the past months, made them ready to return to camp.
"We've had good discussions with each other," McLean said. Debriefing, considering campers' situations, and how to approach virtual connections all contributed to "a lot of learning," she said.
There was also no shortage of fun, for staff and children alike. Campers were treated to a variety of daily online activities, varying from swimming instruction, to baking – including Kongo bars, and campfire blueberry crisp – to painting. They were treated to a hilarious video portrayal of two staff members on a quest to catch the "Camp Bishopswood Heffalump," complete with an eggbeater sound maker and the enticement of Rice Krispies Treats and Jolly Ranchers candy.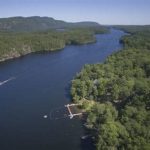 There was even an inaugural 2.5-mile "Barrett's to Bishopswood" swim on Lake Megunticook. In a season-end video interview on "Bishopswood News at Nine," two staff members expressed satisfaction with the accomplishment, admitted its difficulty, and quipped with smiles that they were each bumped by their kayak escorts.
Campers joined the virtual entertainment too, sending in video performances of their own talents and passions. From a Bach piano piece to a modern dance staged on a camper's back deck, performances were posted on the camp's YouTube channel for the community to enjoy.
In addition, the traditional All Camp Goodnight (ACGN) endured, including a reading of The Missing Piece Meets the Big O by camp Executive Director Mike Douglass on the final night of the season. When a wedge-shaped piece seeks to find a pie-shaped piece with that just-right opening, so they can roll along together, that Missing Piece learns from the Big O that it can transform and adapt to roll all on its own.
Camp Bishopswood is a place to grow and transform, too, Douglass told campers. "It's where you can become your best personal self," he said. "We miss you and we care about you." And come next summer, he invited them, the camp wants to welcome their "smiling faces" once again.
"I hope the campers get some of the values of camp we try to teach," McLean said as the season approached its final days. "I hope they realize we are all here for them, no matter what."
While campers benefit from connections, staff members do, too, Douglass said. "A big part of it was when we started the hiring process around November, so some of these kids made decisions in their lives to be at camp. The Board said they wanted to honor that commitment."
Furthermore, Douglass said he also knew how much the staff members would benefit from being there. "They needed to be in community. In the same way, I know families and kids are enjoying it."
The crew played and created together, worked on maintenance projects and summer 2021 planning. The 15 or so young adults also had a summer 2020 version of traditional Morning Devotions, sharing concerns and ideas, thoughts ranging from racism to "inner strength," Douglass said.
"Being in person is what camp is all about," he said. "Camp is about drawing you in."
Work, satisfaction, dear friends, chances to laugh and chances to share. No, Camp Bishopswood didn't host in-person campers this summer. But for youngsters at home and those staff members onsite, summer 2020 still offered essential connections. That, and the chance for young adults to live together when they may have needed it most, served to highlight another reason why summer camp really and truly matters.