Aurora Vaulters: Offering Unique Equestrian Camp Programs in Lamoine
In the coming days, camp programs across the state will be in full swing. From robotics to music to sports – plus traditional residential camps nestled among woods and water – offerings in the state's camping community are vast. And come July, a few dozen youngsters will have the chance to attend a camp like none other in Maine. Aurora Vaulters, a non-profit organization formed less than a decade ago, will bring together children to learn the equestrian skill of vaulting – defined as gymnastic dance in harmony with a moving horse.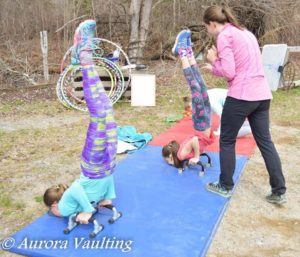 Originally known as Vaulters of MDI, Aurora Vaulters changed its name to identify "with spirit rather than geography," says coach Deb Andrews. Its stated vision? "To provide a safe, dynamic place in which humans and their equine partner can experience the freedom of gymnastic dance in harmony with each other. We provide a clean, safe and welcoming facility. We strive to be educational ambassadors for vaulting in the State of Maine."
At the helm of Aurora Vaulters, based in Lamoine, are the mother-daughter team of Deb and Cynthia Andrews. Cynthia Andrews is the only vaulting competitor in the state of Maine, and competes in Region 9, which makes up much of the eastern seaboard. She is also certified vaulting coach, as well as a certified EMT. For three sessions, in late July and early August, at Starlight Horse Farm in Lamoine, Cynthia and certified-coach mother Deb, will welcome youngsters aged eight to 18 for five-day day camps. Each session will teach horse safety and grooming, horsemanship, vaulting, riding, crafts and more.
"I'm hoping, first, they learn horse safety and have fun," says Deb. Participants can "develop and increase confidence," and "have an adventure."
Vaulting, a discipline overseen by the American Vaulting Association, is one of seven equestrian disciplines practiced worldwide. It is much more widely known on the west coast, Deb says, but when Cynthia was 10, she began to learn the skills on Mount Desert Island. Those skills can include mounts and dismounts, handstands, kneeling, standing, even aerial moves such as flips and jumps.
"She fell in love with vaulting," Deb says.
And while there was therapeutic vaulting in a few barns across the state, no club was a member of the American Vaulting Association, she says.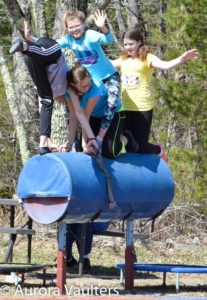 "I watched these pre-teens and teens develop this confidence and sense of self in doing this activity. I found it to be truly amazing."
In more recent years, Cynthia's coach stepped away from the discipline to start a family, and "I really wanted it to continue," Deb says.
"One of the things that drives us is to offer this discipline to a segment of youth who are really called to it," she says.  And those youngsters who participate in Aurora Vaulters programs reap a variety of benefits, among them significant physical strength.  Consider, after all, the power an advanced vaulter demands to perform a handstand on a running horse.
Deb says one session of their camp this summer will be a specialty camp offered by Down East Family YMCA. The other two weeks will be Aurora Vaulters programming.
"Every day they make exponential progress," she says – much more than an aspiring vaulter can gain from a once-a-week lesson. And for those new to the practice, the camp will offer a variety of activities: "an opportunity for kids to be around large equines, try a new sport, learning horsemanship, horse safety and horse care." Youngsters will learn new skills and play games as well, Deb says.
Equestrian vaulting is part of national and international competition, and participants compete in copper, bronze, silver, and gold divisions. Cynthia Andrews is a bronze-level competitor.  Participation includes compulsory exercises, and individual and team freestyle routines performed to music. Scoring takes into consideration the combined performance of the vaulter or vaulters, the lunger, who stands in the center of the 15-meter ring and manages the horse's movement, and the horse itself.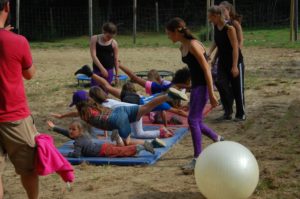 Deb Andrews says their "mother-daughter business" is a labor of love. She began her involvement years ago as a "vaulting mom," supporting Cynthia's passion for the sport, but "I was led to this point in my life and I have never been happier." They are in the process of purchasing the horse farm which they lease in Lamoine, and they are training with their horse, Rosie. Program development continues, and mother and daughter are busy marketing, networking, and talking to parents.
              "We love it," Deb says.
              Aurora Vaulters still has openings in its camp programs. Deb Andrews suggests that interested families email her at dandrews02@gmail.com, or call her at 207-266-3791.