Agassiz Village Summer Camp: Aiming to Share Its Mission Locally
"Everything we do is intentional. Social emotional learning (SEL) is why it's intentional."
Ash Bahi, camp director of Agassiz Village, a youth camp located in Poland, Maine, smiled as he said this in a recent virtual meeting. Camps statewide serving children from Maine, the nation, and the globe, are similarly mission driven. And Bahi, who took the helm as Agassiz Village's camp director in 2019, wants to share that intentionality, make it a "shining beacon" for the hundreds of campers in residence for two-week sessions come summer 2021.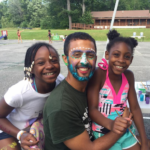 Since its founding in the mid-1930s, Agassiz Village has provided children from underserved communities with a camp experience. With a geographical focus on greater Boston, its first campers included newsboys and bootblacks and street vendors, for whom founder Harry E. Burroughs sought to provide a respite. Then, as now, the camp offered skills development, outdoor living opportunities, and promoted learning for a lifetime.
Today, Ash Bahi and Agassiz Village Executive Director Lisa Carter say the organization is poised to embark on ways to continue to benefit youngsters and their unique needs – and to extend a hand to more underserved children who live right here in Maine.
Campers pay approximately $144 ($125 minimum) for a two-week session at the camp, a tiny fraction of the $1500 cost to Agassiz Village, Bahi says. Fundraising bridges that gap, and some campers whose families cannot meet the cost benefit from outside sponsorships that make attendance possible.
Carter says that when she took the position as executive director of Agassiz Village, and considered its target camper population, she thought: "What about Maine?"
"We know the need and we are reaching out," said Carter, who has followed a long career trajectory of service to organizations supporting children and families. Come summer 2021, the camp aims for a 50/50 geographical split in all three of its 12-day sessions, hosting as many campers from Maine as from greater Boston communities.
Bahi says their outreach has included Lewiston and Portland school districts, as well as Oxford County schools. In addition, Carter says, they are contacting nonprofit agencies including Boys and Girls Clubs, and the United Way.
"We want [campers] to learn more," Carter said. Camp includes fun and enjoyment, she says – ropes courses, swimming, other activities – and gives kids social emotional skills that will provide "preparation for life," she said.
Children experiencing homelessness can also benefit from the camp experience, she said. "It's really critical," she said. "Let's serve these kids."
As a means of supporting older campers, Agassiz Village is also creating a Leader-In-Training program, Bahi said. This would include four weeks at camp in summer 2021, as well as a year-round calendar of events focusing on college and career preparedness, including financial literacy. Successful participation would lead to an invitation to serve on the camp staff in 2022, he said.
Agassiz Village's enhanced efforts to benefit campers in their SEL skills will come in part from a Youth Development Specialist, Carter said, a recently created position to maximize the organization's commitment.
Moreover, Bahi says that as part of Agassiz Village's renewed vision, the camp is working with five words: Acceptance, Happiness, Contribution, Growth, Character. And while the specific words may be tweaked, their values will not.
It's all about the Agassiz Village's mission, says Carter. "Everything we do has a lens on that," she said.
Now, come summer 2021, Maine youngsters will stand to gain from yet another camp committed to serving youngsters in its own backyard.
[Next week: Agassiz Village is also collaborating with higher education institutions to recruit and educate staff, again in an effort help young adults gain and promote invaluable skills for their future family, career and community lives. Hear from Ash Bahi and other camp professionals about initiatives among several Maine camps.]