9th Annual Maine Summer Camps Fair This Sunday in Portland
Families looking for Maine youth camp experiences this summer will have a unique opportunity on Sunday to find out just how many options kids have.  Maine Summer Camps, a non-profit membership organization supporting more than 120 Maine camps, will holds its ninth annual Maine Summer Camps Fair on Sunday, March 18. The fair will take place from 1-3:30 p.m. at East End School, 195 North Street, in Portland.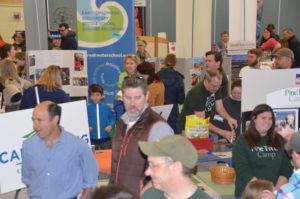 MSC Anticipates 70 Camps to Partake in the Fair
Ron Hall, executive director of Maine Summer Camps, says the organization anticipates about 70 camps to participate, "everything from magic camp to drama camp to music camp to science camp." Hall says the fair will include traditional overnight camps, agency camps such as 4-H and scout camps, even a circus camp. Also represented will be ACE Camp South, a small aviation day camp that will be based at the former Brunswick Naval Air Station and serve youngsters ages 12-16 interested in aviation and possible aeronautical careers.
Kids will have the chance to meet Slugger, of the Portland Sea Dogs, and a food truck is on the slate as well.
"It is really the only opportunity families have in southern Maine to meet with camp directors all at one time," Hall said.  "It's a not-to-be-missed event if you're thinking about sending your child to camp this summer."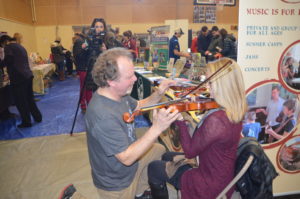 Camp Fairs Benefit Families By Giving Them A Chance To Meet Directors
One Maine camp director, Rick Mades of Maine Arts Camp, says camp fairs benefit families by giving them the chance to meet directors in person.
"It can be good for parents to meet directors face-to-face and get a feel for the camp a little better," he said.
Mades recommends that families prepare in advance of the camp fair so they aren't "overwhelmed" by the sheer number of camps represented. Having a sense of the kind of camp they wish to research in further detail can be helpful, he says.
"I think prepping is the way to go," he said. "Camp fairs can be useful if parents prep properly."
Maine Arts Camp, which is based at Colby College, has both two and four-weeks sessions, and offers a broad range of visual and performing arts as well as videography and photography, culinary arts, dance and individual sports such as kayaking and fencing. Mades says Sunday's camp fair will allow him to share basic information about the camp and its activities, as well as engage parents in more in-depth conversations.
Another organization that will be represented at the camp fair is Rippleffect, which is based in Portland and offers four seasons of outdoor adventure programming supporting its mission of fostering "youth development and leadership through adventure, healthy communities and living sustainably." A core component of Rippleffect's summer programming is based on Cow Island, a 26-acre island in Casco Bay owned by the non-profit.
Adam Shepherd, executive director of Rippleffect, says camp fairs allow families to "get a feel they might not be able to do online."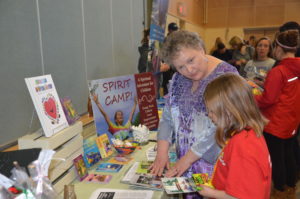 Maine Camps Offer A Broad Scope of Programs For Kids
"I think one of the exciting things about being in Maine is there's such a broad scope of types of programs for kids," he said. "It can be a little challenging sorting through all the options."
Camp fairs allow "human interaction that gives parents insight to what the culture is like," Shepherd said. "There's an authenticity that you get from that human-to-human interaction. "
The camp fair allows Rippleffect staff to meet prospective families, Shepherd says, but also appeals to families who have previously participated in sea kayaking or other programs and are interested in another Rippleffect opportunity.
"We want to have those interactions with families that are going to be sending kids," Shepherd said.  "We'd much rather be in the community meeting our families."
As Maine endures yet another blast of winter weather, planning for summer could be an ideal project for families.  Spending some time at Sunday afternoon's camp fair just might help them lay the groundwork for plotting vacation-time adventures of fun, friendship, and a host of new skills.