Alford Lake Camp
Overnight Camp
Family, Girls
3-4 Weeks, 7 weeks, Special Sessions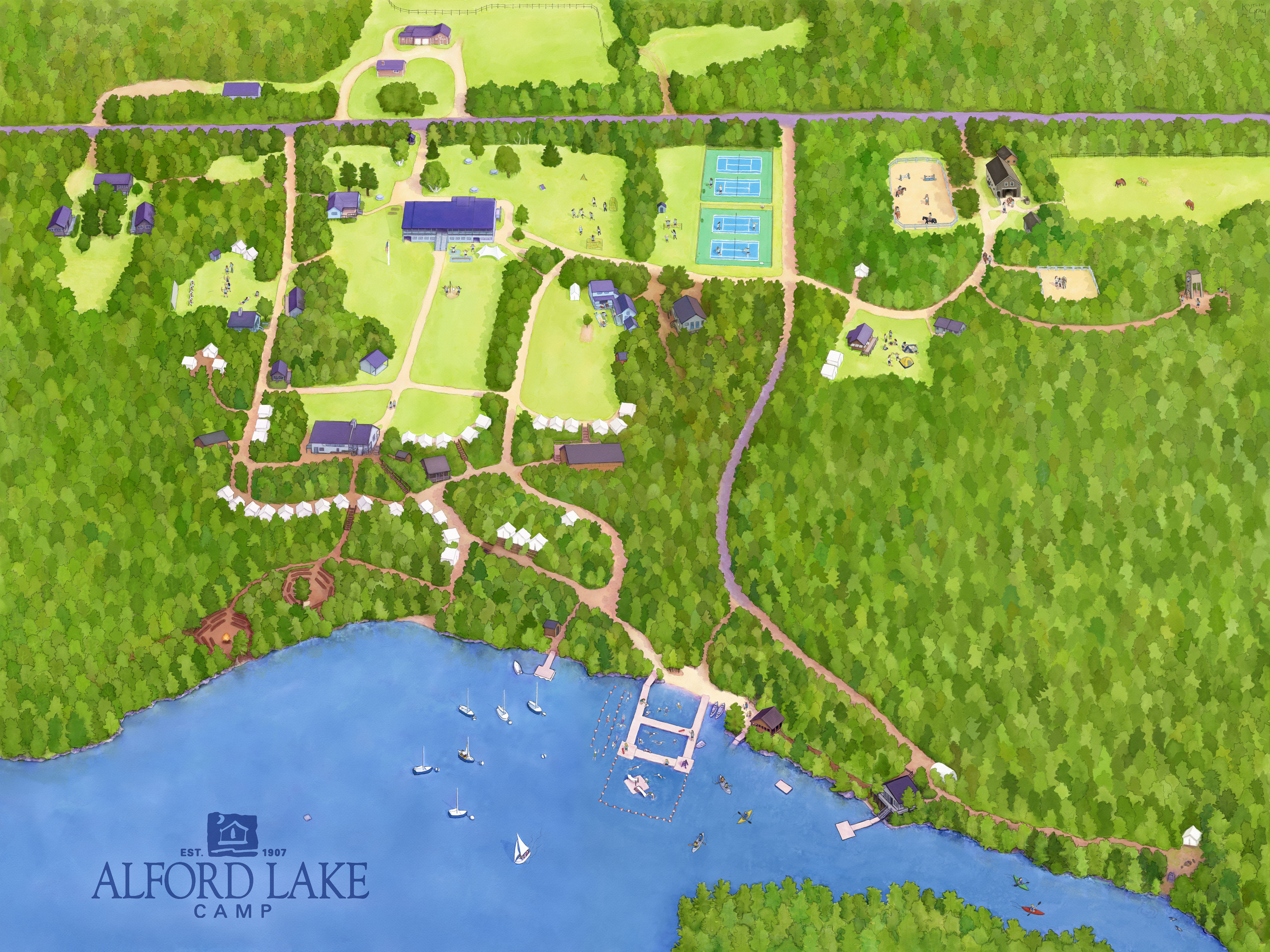 One of the unique qualities of the ALC program is that campers have the opportunity to make decisions about what activities to try every day. Each camper makes choices within the schedule to meet her needs (with the guidance of her tent counselor and the support of the entire counselor staff).
Tennis, Horseback Riding, Sports (lacrosse, soccer, field hockey, volleyball, basketball and other games), Gymnastics, Canoeing, Kayaking, Paddle Boarding, Swimming, Sailing, High and Low Ropes Course, Climbing, Drama, Archery, Art (basket-making, drawing, sketching, ceramics, pottery, weaving, floor-cloth painting, cut glass mosaics, woodworking, paper and fabric mâché, sewing, spinning and dying, making knitting needles, jewelry design, printmaking), Dance, Library, Community Service, Outdoor Explorations, Out-of-Camp wilderness trips.
All girls or Coed; 7-week hiking trip on the Appalachian Trail, 7-week sea kayaking and sailing trip to Nova Scotia, a 5-week experience hiking in the Alps and a 4-week adventure in Colorado. These trips are for campers completing 8th, 9th, or 10th grade .
that each member of the camp community should feel accepted and respected for who they are. At Alford Lake Camp our goals are achieved through a nationally and globally diverse community, through simple outdoor living, through a varied program of activities, and through the leadership of enthusiastic and qualified counselors.  Our hope is for our campers to leave Alford Lake Camp with a greater understanding of what it is to be a responsible citizen; with an increased ability to navigate life's challenges; with a greater ability and desire to reach out to others to "make a difference" and with the enthusiasm to want to help create a happier and healthier world!
Ages:
Youngest age: 8
Oldest age: 15
Founded:
Camp Season:
Begin Date: June 28, 2022
End Date: August 15, 2022
Learn more: www.alfordlakecamp.com
Tuition per Week: $1000 and over
Additional: ACA Accredited, Financial Aid Available
Activities: