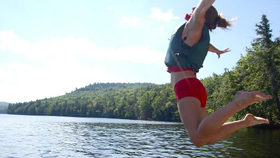 Day Camp, Overnight Camp
Co-ed
1 Week, 2 Weeks, 3-4 Weeks, Special Sessions
The University of Maine 4-H Camp and Learning Center at Bryant Pond provides exciting summer camp opportunities. We offer focused camp programs focused on conservation education and outdoors activities. Through our close partnership with the Maine Department of Inland Fisheries and Wildlife, we provide many programs that offer hunter safety, bowhunter, ATV, and boater safety certification.